Crab fingers are the bottom halves of blue crab claws with the outer shell removed and the pincer tips left in place. They've been a popular New Orleans hors d'oeuvre and menu munchie for years and years. And they're a fun finger food to make at home. You don't have to boil tens of dozens of crabs to enjoy them either. Because they're such a big hit, containers (like the one below) of boiled and shelled crab fingers (also marketed as crab claws or cocktail claws) are abundantly available at seafood markets and grocery stores throughout New Orleans and South Louisiana.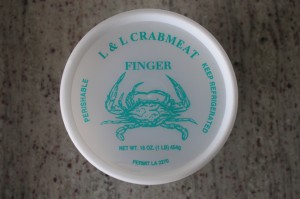 Some stores outside the area carry them too. Call and check around. For my Atlanta readers, the Cajun Meat Company on Roswell Road stocks them. If you can't find them in your neck of the woods, you can always order a container or two online from many different places including Fisherman's Cove and Cajun Grocer. To eat them, simply hold the claw by the pincer tip, place the battered end in your mouth, bite down until you feel the membrane (which is in the center of the meat) and pull between your top and bottom teeth to drag the sweet claw meat and seasoned batter off the membrane. When serving these to a crowd, don't forget to set out an empty bowl to collect the discarded claw shells.
Of course, nothing goes better with fried food than beer. And just yesterday, I had my first sip of the highly anticipated Abita Spring IPA. This is the Abita Brewing Company's latest seasonal sud. I like this IPA style much better than their Jockamo. The Spring IPA has more of an in-your-face hoppiness, unlike the Jockamo that's more subtle and heavier on the malt and yeast. If you're anti-IPA (something I'll never understand), the Abita Strawberry Harvest is still available as are all the brewery's other flagship and big beers.
Until next week …
Fried Crab Fingers Recipe

Peanut or canola, for frying
1/2 cup Italian bread crumbs
1 cup all purpose flour
2 teaspoons salt
2 teaspoons black pepper
1 teaspoon garlic powder
1/2 teaspoon cayenne pepper
1 large egg, beaten
1/2 cup milk
1 pound Louisiana blue crab fingers
Place oil in a large skillet or electric fryer and heat to 350 degrees. Meanwhile, place bread crumbs in a shallow dish. In a separate shallow dish, combine flour, salt, black pepper, garlic powder and cayenne pepper. Measure out 1/2 cup of the seasoned flour and add to bread crumbs; stir to combine. In a third shallow dish, whisk together the egg and milk. Working in batches, dredge crab fingers in seasoned flour, dip in egg wash then dredge in bread crumb mixture. Shake off excess crumbs and gently lower crab fingers into hot oil. Fry until golden brown, 1-2 minutes per batch. Drain on a wire rack or stack of paper towels. Serve immediately. Makes 4-6 appetizer servings.
Genêt