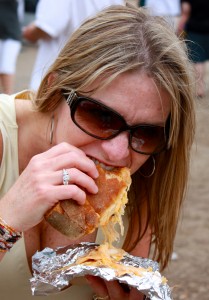 Hey there!  My name is Genêt and I created Raised on a Roux® to celebrate the culinary traditions of my family and hometown of New Orleans, indulge my over-the-top preoccupation with everything food and reflect on the adventures and absurdities of trying to raise my own family "on a roux."   I'm a native New Orleanian currently keeping house in the North Georgia suburbs with an incredibly loving and supportive husband and three young children.  My husband and I are fortunate to have grown up in a city with a rich food and cultural heritage and strong family ties and we're determined to pass those traditions and values on to our own children albeit 500 miles away.
I coined the phrase Raised on a Roux® as a metaphor for growing up in and living life as a New Orleanian no matter where you are and sharing that lifestyle with everyone around you.  It's about never meeting a stranger, working and playing hard, caring about your family, neighbors and community and living a meaningful, relaxed life.  It's about eating and drinking with total abandon (well, most of the time) and honoring your ancestors by preparing their recipes and passing them on.  Being a New Orleanian is also about conveying life experiences and recalling major milestones in terms of food and sharing yourself with others by inviting them to your table for a home-cooked meal.
I hope you'll stay a while, get inspired, cook, eat, laugh, reminisce and enjoy learning what it's like to be Raised on a Roux®!
Genêt