Do you all realize there are only two Thursdays between now and Thanksgiving?  How did that happen?  Why isn't Thanksgiving on November 29, instead of November 22?  I'm well aware of the fourth Thursday of November tradition, but we're losing an entire week here!  Can't we buck the system just once?  For that reason alone, I'm glad I'm not hosting dinner this year.  That takes some pressure off.  But I still need to make two side dishes that can be prepared in advance and travel well (as in 500 miles well) or that can be made with little time and fuss, since I'll have to borrow a busy relative's kitchen to prepare them.  Come to think of it, I may have one of those dishes already figured out.
A few weeks back, I received a bunch of wonderful cheeses from La Bonne Vie and I spent days incorporating them into New Orleans-style recipes.  If you've spent any time at all on this blog, you know how much I love cheese!  So you know I had a blast in my kitchen that weekend.  One of the recipes I came up with was this savory bread pudding.  I took my favorite New Orleans dessert, bread pudding, and replaced the sweet ingredients with savory ones.  I also mixed in one of my favorite combos–andouille and Brie.  In this case, I actually used La Bonne Vie's Triple Crème Brie.  Triple Crème is the rich cousin of regular Brie and their version is smooth, creamy and decadent.  It turned out amazing in this dish.  In this instance, I left the tender rind on and waited until the last minute to stir in the chilled cheese.  The rind helped define the cheese throughout the dish and gave it a nice, earthy edge.  Since savory bread pudding is basically an extension of traditional New Orleans Thanksgiving dressing, I thought it would be a nice addition to our standard Turkey Day spread.  Lucky for me, it can also be made ahead of time, will transport easily in freezer-safe bakeware and can be rewarmed right before dinner is served.
Now when it comes to savory bread puddings, I like a balance of crunchy exterior and creamy interior.  I found that the best way to get both in every bite is to prepare individual servings.  This can be done a number of ways.  My first preference is to use mini-quiche dishes (like in the picture above).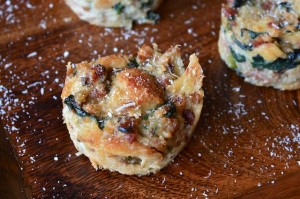 They're pretty and their shallow shape provides the most balanced forkful. My second preference is a toss-up between small ramekins and a 12-cup muffin tin.  The ramekins work well if you want to serve the bread pudding in fancy little dishes.  The muffin tin, on the other hand, requires less cleanup and produces cool looking individual servings (like the picture to the left).  If you're not a fan of all those crunchy edges, you can also bake the entire recipe in one large dish.  But whatever you do, be sure to plate the bread pudding next to the turkey so it can share some of that wonderful holiday gravy–I can only imagine how delicious those two will taste together!
Andouille, Spinach-Mushroom and Brie Bread Pudding Recipe
10 cups bread cubes (1-inch) from a loaf of French bread
1/4 cup plus 1 tablespoon extra virgin olive oil
1 teaspoon garlic powder
1 pound andouille sausage, casings removed
2 cups chopped onions
2 garlic cloves, minced
1 8-ounce package sliced white mushrooms
1 5-ounce bag baby spinach, stems removed
1 1/2 cups heavy cream
1 cup milk
4 large eggs
1/4 cup grated Parmesan cheese
1/4 cup thinly sliced green onions
1 teaspoon dried thyme leaves
1/8 teaspoon cayenne pepper
Salt and black pepper to taste
8-ounces LA BONNE VIE Triple Crème Brie cheese, with rind, cut into 1-inch pieces and chilled
Preheat oven to 350 degrees.  Spread bread cubes on a large rimmed baking sheet and toss with 1/4 cup of olive oil and garlic powder.  Season to taste with salt and pepper.  Bake, stirring twice, until lightly toasted, 15-20 minutes; set aside.  Increase oven temperature to 400 degrees.  In a large skillet, heat reserved 1 tablespoon olive oil over medium-high heat.  Add andouille and cook until lightly browned, breaking sausage up as it cooks with the side of a spoon or a potato masher, 8-10 minutes.  Add onions, garlic, mushrooms and salt and pepper to taste; cook, stirring frequently, until vegetables begin to brown, 7-8 minutes.  Add spinach and cook until wilted.  Remove from heat and let cool.  In a large bowl, whisk the heavy cream with the milk, eggs, Parmesan cheese, green onions, thyme, cayenne and a generous pinch each of salt and black pepper.  Stir in the bread and andouille mixture and let stand, stirring occasionally, until all the liquid is absorbed, about 15 minutes.  Meanwhile, butter 12 6-ounce mini-quiche dishes (or 12 6-ounce ramekins or 1 shallow 4-quart baking dish) and place on a large baking sheet.  Stir Brie into pudding and spoon mixture into prepared dishes.  Bake until firm in the middle and golden brown on top, 30 to 45 minutes.  Let cool for 10 minutes before serving.  Makes 12 servings.
Genêt

Disclosure: This is a sponsored post by LA BONNE VIE.  I have been provided with products and compensated to create this recipe.  However, I only promote items that stay true to my taste and interest and all opinions and ideas expressed in this post are entirely mine. To locate LA BONNE VIE cheese in your area, visit their website. Additional product information is also available on their Facebook page.