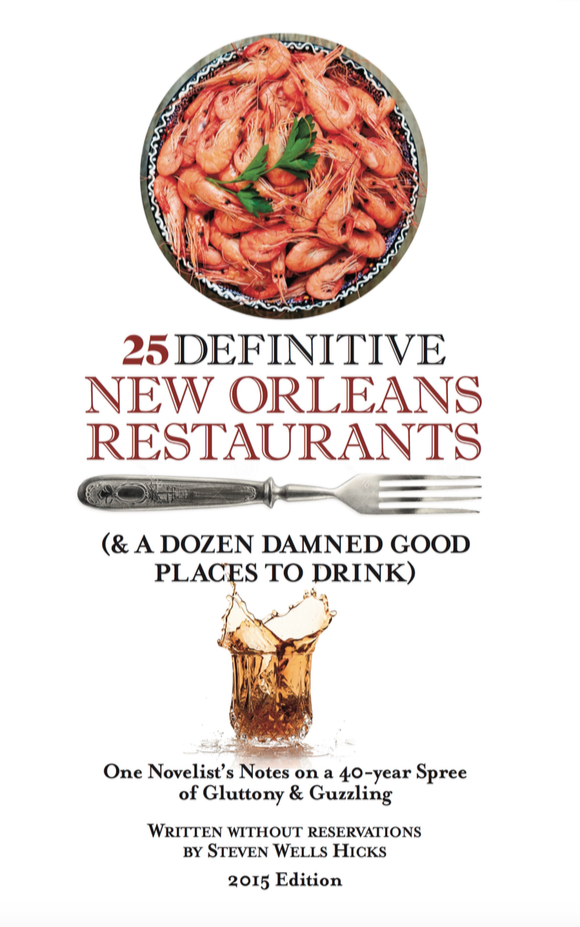 Did you know that as of today, there are over 1,400 sit-down restaurants in the Greater New Orleans Area? Fourteen-hundred! One dash four dash zero zero! And that doesn't include fast food joints or most national chains. Oh, and there are at least 500 bars occupying the same zip codes. Isn't that astonishing? I'm totally amazed and so proud of this post-Katrina renaissance. But I'm also sensitive to the fact that those numbers can be quite overwhelming to anyone looking for a traditional dining and drinking experience. By traditional, I mean restaurants and bars that turn out classic New Orleans cuisine and cocktails and are committed to doing things the old fashioned, New Orleans way. So when I was recently invited to review a new restaurant and bar guide on "real deal" New Orleans food and drink experiences, I jumped at the opportunity. I figured if this latest book delivered on its promise, it could end up being a valuable resource for me and you.
The book is 25 Definitive New Orleans Restaurants (& A Dozen Damned Good Places to Drink)
. It's a compilation of essays on the more memorable places the author has uncovered in his 40-year quest to find the dishes, drinks, people, places and stories that make New Orleans one of America's legendary dining and drinking destinations. Right off the bat, let me just say The 25/12 is everything it says it is—and more. If you know anything at all about the New Orleans food and drink scene, then you're aware that eating out in our city is about more than sustenance. And going out to grab a cocktail or craft beer is about more than catching a buzz. Both are very social events we also rely on to stimulate our minds, satisfy our souls and generally pass a good time. And it's the familiar foods and beverages we order, comfortable environments we choose to hang out in and friendly faces we encounter that turn a particular restaurant meal or happy hour visit into a worthwhile experience. Steven Wells Hicks, the author, gets this. He gets New Orleans. And he captures the essence of these important elements in the entertaining and highly accurate (I've had several similar experiences) stories he shares.
As the title reflects, The 25/12 is divided into two parts. The first part centers on the restaurants. The definitive 25 that made the cut, although quite diverse in atmosphere, style and price point, all serve classic New Orleans food, originated in the city and have no more than five locations. It's a great representation of all the experiences that can be had when dining out in NOLA. Hicks separates the definitive 25 into five distinct categories with headings that will immediately make sense to residents and curiously entice hungry and adventuresome travelers. They include:
The Classics – Creole and Cajun temples where faithful patrons worship at the altar of tradition
Chef's Specials – restaurants with chefs deeply rooted in Louisiana's food heritage
The Originators – establishments that created regional culinary anchors like the muffuletta and barbecue shrimp
Neighborhood Favorites – real gems where locals turn for comfort and continuity
Local Color – where the dining experiences are measured by the food as well as the distinct character, charm and eccentric personalities of the people that work and play there
The second part of the book is all about the bars, or as Hicks likes to call them, saloons. Here, Hicks has done an equally successful job of identifying an eclectic mix of watering holes that all deliver a true New Orleans vibe, keeping in mind of course that there are many different vibes that make up the city's drinking culture. Hicks' dozen captures the old world elegance/classic cocktail bar vibe that's felt at places like the Napoleon House, the live music and dance vibe that reverberates through the walls of clubs in and around the Faubourg Marigny area, the dive vibe where the attraction is cheap drinks, above-average bar food and lots of local edge and the friendly, neighborhood bar vibe that can be found in off-the-beaten-path places like historic Algiers Point.
So there you have it. The scoop on The 25/12. All in all, I think it's a wonderful point of reference for visitors interested in a traditional New Orleans experience. I also think it's a worthy read for locals looking to pay homage to their old stomping grounds or interested in discovering something new in their own backyards. Real deal cuisine, cocktails and culture—The 25/12 covers it all. And with the New Orleans festival season in full swing, there's no better time than the present to get yourself a copy and get yourself to New Orleans.
The 25/12 is available in eBook and paperback via Amazon
. And if you want to learn more about the very interesting and very talented Mr. Steven Wells Hicks, visit his website and follow him on Twitter and Goodreads.
Laissez les bon temps rouler!
Genêt
P.S. I was graciously provided a copy of this book, but was not paid for my review. All thoughts, opinions, rants and raves are my own.
This post contains an affiliate link.