I remember the first time Chandler, my oldest, had fast food.  It was a McDonald's French fry, delightfully handed to her by the hubby who was driving the family back to Atlanta from one of our many trips home.  Chandler was maybe four at the time.  As she lifted that deep fried salt stick to her lips, I recall quietly praying she'd spit out the first bite and throw the rest across the car in total disgust.  I wasn't ready for my real-food-loving, avocado-hugging daughter to succomb to the evils of fast, processed imposters.  But as I expected, she L-O-V-E-D it and rhythmically chanted "more please, more please" during the remainder of the car ride.
As the story of parenting typically goes, I have absolutely no recollection of Brennan's or Blair's first encounters with the fast stuff (but I'm certain it was before they turned four).  All I know is that since that first McDonald's fry, the topic of healthy versus not so healthy food choices has been front and center in our house.  While the hubby and I don't consider any foods off-limits, we do preach moderation and try to use meals and snack times to teach our kids the value–or lack thereof–of what they're eating.  This Broccoli Pasta is the perfect example.
You see, once upon a time I made this dish super-healthy with whole wheat vermicelli and everyone loved it.  Unfortunately, I also kept the less-than-stellar "white" pasta on hand for meals such as Meatballs and Spaghetti (some things are sacred even if they're not as healthy as they could be).  Over time, the kids starting prefering the white to the wheat.  Not surprising, especially considering how gummy and chewy whole wheat pasta was when I first started serving it.  These days, there are a ton of whole wheat pasta options on the market with much improve tastes and textures.  But my kids still won't go near them.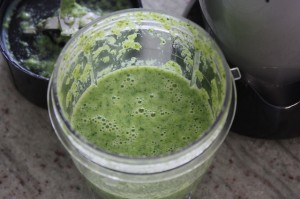 It's a battle I no longer fight.  I just try to make up the difference elsewhere.  With this recipe, it comes by way of two powerhouses:  broccoli and extra virgin olive oil.  I make sure the good outweighs the bad in terms of what they actually eat off their plates by pureeing about a fourth of the cooked broccoli and stirring it into the pasta.  That pureed mixture creates a light sauce that clings to the pasta making every bite creamy, flavorful and healthy.
Broccoli Pasta Recipe
1 pound pasta (I use vermicelli but any type will do)
1/4 cup extra virgin olive oil
4 garlic cloves, minced
3 heads broccoli, cut into bite-size florets
1 1/2 cups chicken broth
1 teaspoon garlic powder
1/2 cup grated Parmesan cheese
Salt and pepper to taste
Cook pasta al dente according to package directions.  Drain, reserving 1/2 cup pasta water; set aside.  In a large saucepan, heat olive oil over medium heat.  Add garlic and cook, stirring frequently, until lightly golden, 2-3 minutes.  Add broccoli florets; toss well in garlic oil.  Add chicken broth and reserved 1/2 cup pasta water.  Increase heat to medium-high and bring to a boil.  Reduce heat to simmer, cover and cook until broccoli is tender, about 5 minutes.  Remove from heat and puree 1 cup of cooked broccoli mixture in a blender; return to pan.  Gradually add pasta, tossing to mix between additions.  Stir in garlic powder and cheese.  Season to taste with salt and pepper.  Serve warm.  Makes 6-8 servings.
Genêt