I've been under the weather this week and yearning for a big bowl of warm, soothing and spicy gumbo. I just couldn't find the time or energy to pull it together. So yesterday morning the thought came to me to prepare a knock off of my Chicken and Andouille Gumbo in finger food form. And here it is! What do you think? Okay. Not a fair question since you haven't tasted it yet. But let me say, these meatballs rock. They're light and flavorful and perfectly seasoned, especially when partnered up with the gravy (or sauce or whatever you want to call it in this instance). That gravy is the base for my gumbo. I simply slashed the ingredients in half. Last night I ate the meatballs straight from the pot. Earlier today after I took the pictures for this post, I ate them with shredded lettuce that had been tossed with gravy. Yum! You know, these guys would also make a mighty fine chicken and andouille meatball poor boy. Endless possibilities!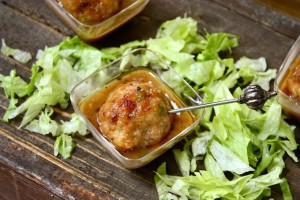 Now don't get wigged out by the recipe. I know it looks like a lot of work, but it's not. These meatballs are totally Finger Food Friday-friendly. Half the ingredients listed under both the meatballs and the gravy are seasonings. And the roux? I know you all have that down by now. If you're a little rusty, refresh with my earlier posts on roux-making. Beverage-wise, I'm not sure I'll be able to enjoy anything alcoholic this evening. But if I start feeling better between now and the five o'clock whistle, I'll be reaching for a Sierra Nevada Torpedo. It's an "extra IPA" which means it's really smooth and really hoppy. For those of you considering crossing over to the other side of beer-drinking, this would be a smart bridge beer. For everyone else, there's Miller Lite.
Until next week …
Chicken and Andouille Meatballs Recipe
Meatballs
2 pounds ground chicken
1 pound andouille sausage
1/2 cup chopped green onions
1/2 cup finely chopped celery
1/2 cup finely chopped green bell pepper
2 garlic cloves, minced
1/2 cup Italian bread crumbs
1 large egg, lightly beaten
1/4 cup heavy cream
1 teaspoon Lea & Perrins (Worcestershire sauce)
1 tablespoon chopped fresh parsley
1 1/2 teaspoons kosher salt
1 teaspoon garlic powder
1 teaspoon onion powder
1/2 teaspoon black pepper
1/8 teaspoon cayenne pepper
Gravy
1 bay leaf
1 teaspoon parsley flakes
1 teaspoon kosher salt
1/2 teaspoon dried thyme leaves
1/2 teaspoon dried basil leaves
1/2 teaspoon garlic powder
1/4 teaspoon black pepper
1/4 teaspoon cayenne pepper
1/4 teaspoon white pepper
4 cups chicken stock or broth
1/2 cup canola oil
1/2 cup all purpose flour
1/2 cup finely chopped onions
1/4 cup finely chopped celery
1/4 cup finely chopped green bell peppers
1 garlic clove, minced
FOR THE MEATBALLS: Preheat oven to 400 degrees. Place ground chicken in a large bowl. Remove casing from andouille sausage and slice into 2-inch pieces. Place sausage in a food processor and pulse until coarsely ground; add to chicken and mix with your hands until thoroughly combined. Mix in green onions and remaining ingredients. Shape meat mixture into 1 1/2-inch balls. Place on a large rimmed baking sheet lightly coated with cooking spray and bake until golden brown and cooked through, about 25-30 minutes.
FOR THE GRAVY: Combine bay leaf and next 8 ingredients (through white pepper) in a small bowl; set aside. Place chicken stock in a medium saucepan over medium heat; bring to a gentle simmer. Meanwhile, make a roux by placing the oil in a large heavy skillet (preferably cast iron) over high heat. Gradually add the flour, whisking carefully and vigorously after each addition until smooth. Continue whisking until a milk chocolate roux is achieved. Add the onions, celery and bell peppers; cook whisking constantly for 2 minutes. Add the garlic and seasoning mix; cook an additional 2 minutes. Increase heat on chicken stock and bring to a boil. Gradually add roux mixture to stock, whisking after each addition until dissolved. Stir in meatballs. Reduce heat to medium and simmer for 15 minutes. Transfer meatballs and gravy to a crock pot and serve hot with toothpicks and plenty of French bread. Makes approximately 40 cocktail meatballs.
Genêt