Labor Day is upon us.   Already.  There's no pushing back the clock.  It's here.  The unofficial end of summer.  That's okay by me.  I'm ready for football weather and everything that goes along with it.  But before I pull out the soup pot and the snuggie (don't laugh), I would like to enjoy one last, long weekend in my "white" jeans grilling outdoors with family and friends.  My contribution to the grill is going to be Skirt Steak Fajitas.  I like cooking this hearty finger food when I have a lot of mouths to feed.  It's also a welcomed departure from the traditional Labor Day burgers and brats.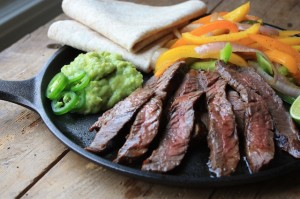 I've been cooking fajitas for years, but it wasn't until last fall that I figured out the secret to the best home-cooked ones.  It's the meat.  You need the right cut.  One that can soak up an acidic marinade without getting tough or turning to mush. One that holds together nicely on the grill. One that melts in your mouth.  That cut is … drum roll please … the skirt steak.   Okay, so you already figured that out from the title of this post.  But it really is the best cut for the job regardless of its "economy" status.  I buy it in these huge six to seven pound packages from BJ's Wholesale.  I'm sure Costco and Sam's carry the same.  As long as you cook the skirt steak fast, over high heat and always, always, always slice it on the diagonal (opposite from the way the grain runs), you will end up with juicy and flavorful fajitas.  I serve my fajitas with the usual suspects:  sauteed peppers and onions, guac, salsa, cheese, sour cream and fresh jalapenos.  Building your own personal fajita is half the fun.  So add or omit as you see fit.  Flour, corn and whole wheat tortillas? Pick your favorite. They all work.  Lately, I've been digging the Olê Xtreme Wellness high fiber/low carb tortilla wraps.  They're really soft, have a mild flavor and pack a whopping 12 grams of fiber (not to mention the fact that each tortilla has only 71 calories and 8 grams of protein)!
Oh, and if you're stuck indoors this weekend due to that nasty Tropical Storm Lee churning in the Gulf, throw the skirt steak under the broiler instead of on the grill.  You won't be disappointed!
And finally, the moment you've all be waiting for … the beverage.  I don't know about you, but I've got to kick it back with some cold ales. India Pale Ales. But of course any beverage that tastes good to you is the one you need to be drinking.
Until next week …
Skirt Steak Fajitas Recipe

2 pounds skirt steak, trimmed of excess fat
1/4 cup teriyaki sauce
3 tablespoons Lea & Perrins (Worcestershire sauce)
1 tablespoon McCormick Grill Mates Montreal Steak® seasoning
1 tablespoon extra virgin olive oil
2 large sweet bell peppers (any colors), seeded and sliced
1 large red onion, halved and sliced
12 warm tortillas
Toppings:  Shredded cheddar cheese, sour cream, guacamole, salsa, fresh jalapeno slices.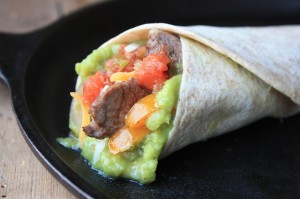 Place skirt steak in a large resealable plastic bag; pour teriyaki sauce, Lea & Perrins and Montreal seasoning over steak.  Seal bag; turn to evenly coat.  Marinate skirt steak in the refrigerator for at least 2 hours or overnight, turning occasionally.  Remove steak from refrigerator and allow to sit at room temperature for 15-20 minutes prior to cooking.  Prepare grill for directing cooking over high heat.  Remove steak from marinade; discard marinade.  Place steak on hot grill.  Cover and cook 4-5 minutes per side.  Remove from grill; transfer to a cutting board.  Tent with foil and allow to rest for 5 minutes before slicing.  While steak is resting, heat oil in a large skillet over medium-high heat.  Add peppers and onions.  Season to taste with salt and pepper.  Cook, stirring occasionally, until vegetables are slightly soft.  Remove from heat; transfer to a serving platter.  Thinly slice steak across the grain; arrange on serving platter with peppers and onions.  Serve with desired toppings.  Serves 6.
Genêt