The inspiration for this succulent pork shoulder comes from two sources. The first is a recipe I came across in Crescent City Cooking, Chef Susan Spicer's cookbook, that highlighted jalapeno peppers. The second is a citrusy pork dish the hubby's cousin's wife prepared for us several years back.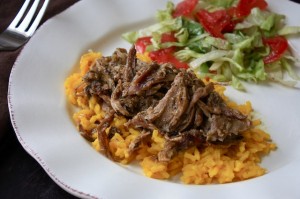 The sauce on that pork was mojo-style. Mine borrows ingredients and ideas from both. It marries good old Southern pig parts with bold and bright Caribbean flavors, those same Caribbean flavors that have been influencing New Orleans cooking for decades. We're talking aromatic spices, fresh fruit juices, plenty of garlic and a lot of peppers. You'll recognize them all in my spicy and tangy marinade. And I make no apologies about the heat level. This pork has a definitive bite but one that can be easily tamed with a side starch and cool salad. This juicy, melt-in-your-mouth meat would also fit nicely into any Cinco de Mayo celebration served as is or tucked into quesadillas or enchiladas.
Jalapeno and Citrus Roast Pork

1 6-to 8-pound boneless pork shoulder
Juice and zest of 2 naval oranges
Juice and zest of 2 limes
2 jalapeno peppers, seeded and minced
6 garlic cloves
2 tablespoons extra virgin olive oil
2 tablespoons fresh thyme leaves (or 1 tablespoon dried thyme leaves)
2 tablespoons kosher salt
1 tablespoon dried oregano leaves
1 tablespoon ground cumin
1 tablespoon black pepper
1/2 teaspoon cayenne pepper
Preheat oven to 325 degrees. Pat pork shoulder dry and place fat side up in a large roasting pan lightly coated with cooking spray. With a sharp knife, make 10-12 deep slits on the top and sides of the roast; set aside. Combine the remaining ingredients in a blender and puree. Pour the citrus mixture over the roast and massage some into the deep slits. Cover pan tightly with aluminum foil and roast until pork is very tender, about 5 hours, removing the foil during the last 30 minutes of cooking time to allow top to brown. Remove roast from oven and let rest for 20 minutes. Shred meat and discard excess fat. Serve with the pan juices ladled on top. Makes 8-10 servings.
Genêt