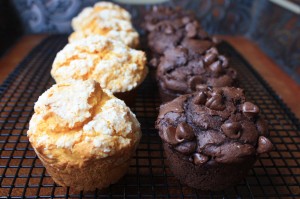 This is a short and sweet post to accompany a short and sweet recipe (or two).  Last year, my wonderful neighbor and baker extraordinaire, Lisa, turned me on to these great chocolaty muffins that she makes with nothing more than a can of pumpkin, a box of chocolate cake mix and chocolate chips.  Count them:  1-pumpkin; 2-chocolate cake mix; and, 3-chocolate chips.  That's it.  They're scrumptious and super moist thanks to the pumpkin, yet they don't taste like pumpkin.  Since my daughters and I are vanilla girls deep down inside, I decided to try a similar recipe using yellow cake mix.  Oh my, I think they're even more decadent than their cocoa-laden counterparts.  I suggest making a batch of each so you can decide for yourself!
By the way, these make great after-school snacks.  They're also perfect starter recipes for kids.  There's no measuring, minimal mess and all you'll need to do is monitor a hot oven.
3-Ingredient Chocolate Muffins
1 18.25-ounce box chocolate cake mix
1 15-ounce can pumpkin
1/2 cup semi-sweet chocolate chips
3-Ingredient Vanilla Muffins
1 18.25-ounce box yellow cake mix
1 15-ounce can pumpkin
1 square of vanilla flavored almond bark, grated
Cooking Instructions for Both
Preheat oven to 350 degrees.  Lightly grease one muffin pan and set aside.  Place cake mix and pumpkin in the bowl of an electric mixer fitted with the paddle attachment.  Mix ingredients on low until combined.  The batter will be thick.  Scoop even amounts of batter into muffin pan.  Each cup should be filled close to the top.  FOR CHOCOLATE MUFFINS:  sprinkle chocolate chips on top of muffins; press down lightly.  FOR VANILLA MUFFINS:  sprinkle grated bark on top of muffins; press down lightly.  (The almond bark will form a slightly crunchy topping.  You could substitute white chocolate chips if you want a creamier topping.)   Bake until toothpick tester comes out clean, about 20-25 minutes.  Cool slightly before removing muffins from pan.  Serve immediately or store in an airtight container for 2-3 days.  Each batch makes 12 large muffins.
Genêt