Back in January, I had the pleasure of meeting Amy Evans at the foodblogSouth conference in Birmingham. Amy is an oral historian with the Southern Foodways Alliance, a not-for-profit institute of the Center for the Study of Southern Culture at the University of Mississippi. The organization studies the diverse food cultures of the ever-changing American South and records its findings through oral histories, photographs, documentaries and various publications. It then celebrates the regions cultural "creators and keepers," as I like to call them, by sharing their stories with anyone and everyone through various festivals, field trips and an annual symposium. The SFA also does a fine job of cataloging these riches on their website. I've clocked many hours on that dot-org devouring oral histories and plotting fantasy road trips (which I hope will all eventually become realities) using their Oral History Interactive Map–a very cool tool I might add. At the top of my list? The Southern Boudin Trail! Oh, how I'd love to meet those "boudiniers" and trace this lovely Cajun link's history one bite at a time. Until then, I'll continue to explore new ways to cook and share this South Louisiana sausage. One of my most recent successes involves pairing the boudin with poultry. A turkey breast "roast" to be exact.
A turkey breast roast is basically a boneless, oftentimes skinless breast (a single breast) of turkey that has been rolled and neatly tucked into a twine net. It's a great option when you need a turkey fix midyear and don't have the time or mouths to justify cooking a whole bird. But because these roasts are boneless and in most cases skinless, they need a little TLC. That's where the boudin comes in. What I do is remove the breast from the netting and butterfly it. I then coat the bird with the boudin, roll it up tight and bake it. Besides adding mega amounts of pork-infused flavor to the otherwise bland bird, the beloved boudin bastes the breast from the inside out to insure a moist mouthful with every bite. The heavily seasoned pork-rice mixture also adds an inviting textural element to the dish. I top it off with a generous drizzle of bacon drippings (that pork-on-pork thing I love so much) so the outside doesn't dry out. If that's too much pork love for you then use olive oil instead. And please … no negative comments about my trussing technique. I was in a rush when I made this, failed to cut enough twine, didn't have any clean hands around to grab me another, longer piece and made do with what I had. The important thing to take away from that last photo in my recipe is that ugly works! Bon appetit!
Boudin-Stuffed Turkey Breast Recipe

1 2-pound boneless breast of turkey roast
2 teaspoons Creole seasoning, divided
Salt and pepper to taste
1 pound boudin
Bacon drippings or extra virgin olive oil, for drizzling
Preheat oven to 400 degrees. Remove turkey breast roast from netting and unroll onto a large sheet of waxed paper. With a sharp knife, make a slit lengthwise down the center of the breast. Cover with a second sheet of waxed paper and pound to an even thickness of 1 to 1 1/2-inches using the flat side of a meat mallet. Season with 1 teaspoon Creole seasoning and salt and pepper to taste.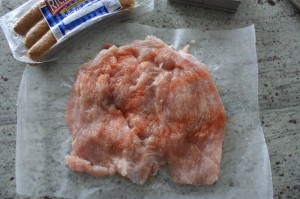 Remove boudin from casing and spread evenly on top.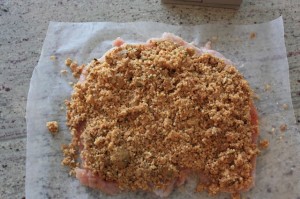 Roll the turkey breast around the stuffing and secure with kitchen twine or toothpicks.  Place turkey in a roasting pan lightly coated with cooking spray. Drizzle with bacon drippings or olive oil and season the outside with the remaining 1 teaspoon Creole seasoning and salt and pepper.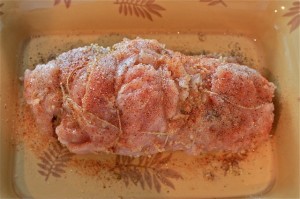 Roast, uncovered, for 20 minutes. Reduce heat to 325, pour 1/2-inch water in the bottom of the pan (to prevent drippings from burning) and continue cooking, uncovered, until the turkey is cooked through and the juices run clear, about 40-50 minutes, basting every 15 minutes. Tent with foil and let rest for 15 minutes. Remove kitchen twine or toothpicks, slice, top with pan juices and serve. Makes 6 servings.
Genêt