Here's the Finger Food Friday that wasn't. As I mentioned on
Facebook
at the end of last week, I had planned to make Crawfish Mac and Cheese Bites for that day's post. But, well, let's just say the recipe in my head was flawed for this purpose. The creamy mac and cheese, which I spooned into muffin tins and baked, didn't set up enough to produce the nifty little single-serving, hand held morsels I was hoping for. I knew going into it there could be problems considering I choose a sauce base void of either of the two standard binders: starch (by way of a white-roux-and-milk bechamel sauce) or eggs (via an egg-and-milk custard). I'm typically a bechamel mac and cheese girl and I love my Aunt Bronnie's custardy baked macaroni, but I didn't want either in this recipe. What I wanted was a crusty exterior and a gooey center, a texture I thought I could achieve with a heavy cream and cheese mixture that included Velveeta. In the end, even consistently reliable Velveeta wasn't enough to hold the mac and cheese cupcakes together.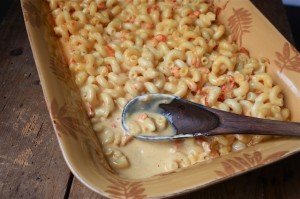 It did, however, make for a super-velvety, over-the-top macaroni and cheese! Other factors that contributed to this comforting pasta's success (as a side dish not as a finger food) were the aggressive flavors of the smoked cheddar, Gruyere and Parmesan combined with the Velveeta, the fact that I finely grated all the cheeses and brought them to room temp before adding them to the heavy cream (to integrate the cheese evenly into the liquid to avoid lumps and other nasty behaviors that cheese can exhibit under these circumstances), the amped up hit of Creole seasoning and, of course, the addition of crawfish tails. If you like your mac and cheese uber-gooey or don't have the patience to wait 20 additional minutes to dig in, don't bake it. It's addictive either way!
Crawfish Mac and Cheese Recipe

1 16-ounce package of cavatappi or elbow macaroni
1 quart whole milk or half-and-half
1 16-ounce package Velveeta cheese, cubed
1 pound frozen crawfish tails, thawed and drained (but not rinsed)
2 cups finely grated smoked cheddar cheese, at room temperature
1 cup finely grated Gruyere cheese, at room temperature
1/2 cup finely grated Parmesan cheese, at room temperature
1 teaspoon Creole seasoning
1/4 teaspoon ground nutmeg
1/8 teaspoon cayenne pepper
Salt and pepper to taste
Preheat oven to 375 degrees. Butter a large baking dish; set aside. Cook pasta al dente according to package directions; drain well. Meanwhile, in a large saucepan, bring the milk or half-n-half to a simmer over medium-high heat. Reduce heat to medium-low and stir in Velveeta; cook, stirring frequently, until melted. Add crawfish tails, remaining cheeses, Creole seasoning, nutmeg and cayenne pepper. Stir constantly just until cheeses are melted. Immediately remove from heat and stir in cooked pasta. Season to taste with salt and black pepper. Pour mixture into prepared dish and bake, uncovered, until golden brown and bubbling, about 20 minutes. Serve immediately. Makes 8-10 servings.
Genêt