Let's talk wings, shall we?  Crispy, juicy ones dripping with spicy Buffalo sauce.  Many a weekend night revolves around them, especially during football season.  And we all have strong opinions on who makes the best.  Me?  I'm a Hooters girl.  No.  No.  No.  Not a "Hooters Girl."  I don't work there or anything.  What I mean is I prefer Hooter's wings "hot naked" over all others.  Honestly, that's how I order them.  If you're unfamiliar with their menu, let me explain.  "Hot" refers to the heat level (they also come mild, medium, 3 Mile Island and 911).  "Naked" means without breading.  If you don't order them naked, they'll arrive at your table with a thick, mushy coating.  Yuck, yuck, yuck!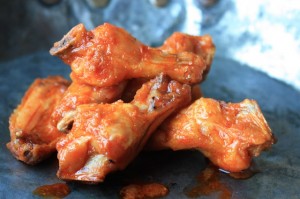 Unfortunately for Hooters, their "default" wings are those gummy breaded ones, which I think is why many people don't like them. I also like to cook wings at home, but I've only done it a handful of times because of the whole frying thing.  It's a hassle, especially when making them for company.  Which is why I jumped at the chance to try Alton Brown's "steam-cool-roast" method, as I like to call it.  On his Food Network show, he promised it would produce the crispiest baked wings around. So as directed, I steamed the wings to render some of the fat, cooled them down in the fridge to dry out the skin (so they'd brown easier) and finished them off in a hot oven.  It worked! No more fried Buffalo wings for this chick (no pun intended)–at least not at home! I created the sauce based on my favorite New Orleans ingredients and my family's, predominately the kids', heat tolerance.  I'd call it mild to medium for the average wing-eater.  You can manipulate the hot sauce-to-butter amounts to your liking.
Now we all know you can't eat wings without a cold beer … which makes today's liquid refreshment selection easy.  It's another newby (for me):  Loose Cannon Hop3 IPA (Clipper City Brewing Company/Heavy Seas Beer, Baltimore, Maryland).  It's smoother and lighter than many of the other IPAs I've talked about–a good beer for introducing people to the wonderful world of American IPAs.  Just make sure you respect the alcohol percentage.  IPAs are much stronger than "Miller Lites" and every other light beer for that matter.
Until next week …
Buffalo Wings Recipe
15-20 whole wings
1/2 cup Louisiana Hot Sauce
5 tablespoons butter
1 1/2 tablespoons white wine vinegar
1 teaspoon Lea & Perrins (Worcestershire sauce)
1/2 teaspoon garlic powder
1/4 teaspoon cayenne pepper
1/4 teaspoon salt
Place a large roasting pan on the stove over two burners.  Put a roasting rack in pan; fill with enough water to come up to but not over rack; bring to a boil.  Reduce heat to a simmer.  With kitchen shears or a sharp knife, cut wings into three pieces (drumettes, flats and tips).  Freeze tips for making stock at another time.  Place drumettes and flats in a single layer on roasting rack; cover roasting pan tightly with aluminum foil.  Steam wings for 15 minutes.  Line a rimmed baking sheet with paper towels.  Carefully transfer roasting rack of wings from roasting pan to baking sheet (I grab the rack on each side with two pairs of tongs).  Refrigerate wings for at least 1 hour, uncovered.
Preheat oven to 450 degrees.  Remove baking sheet from refrigerator and replace papers towels with parchment paper.  Place wings in oven; roast for 20 minutes.  Flip wings and continue to cook until crispy and golden brown, 20-25 additional minutes.  Meanwhile, make the sauce by whisking remaining ingredients in a small saucepan over medium heat until butter is melted.  Remove wings from oven; transfer to a large plastic container.  Pour sauce over wings, secure lid and shake vigorously until wings are evenly coated.  Transfer to a serving platter.  Serve immediately with celery, carrots and blue cheese or Ranch dressing.  Makes 6-8 appetizer servings.
Genêt