Although the calendar has not yet recognized the season, it's summer around here. Temps are climbing close to 100, rain is scarce and the mosquitoes are hungry. And while the oppressive heat tends to diminish appetites, I think we'd all agree that it has quite the opposite effect on thirst. This warm weather eating and drinking issue had me at a crossroads for today's Finger Food Friday. I couldn't decide if I should share a crisp and cool picking food or something a bit more substantial to help absorb all the extra brewkies that may be thrown back in an attempt to keep comfortable body temperatures intact. By now, you've probably figured out that I decided to go with the latter and Spinach Bread fits the bill.
Sicilian immigrants were the first to prepare Spinach Bread in homes throughout New Orleans. They served it alongside Red Gravy suppers. Traditionally, it was made from scratch with the spinach and seasonings baked right into the dough. Throughout many years of borrowing and sharing, the recipe became more widely relied on as an appetizer and many versions followed. My recipe, for instance, starts with freshly baked French bread because I do not get along with yeast. Even putting us in the same room leads to disaster. I prepare my spinach mixture on the stove and slather it on the bread. With this method, I'm greeted with the delicate crunch of the French bread's classic thin crust followed by a pillowy mouthful of dough and creamy, garlicky spinach bliss. Need I say more?
Oh, there is more! The beverage. Thirst-quenching beer, specifically Abita Wheat (Abita Brewing Company, Abita Springs, Louisiana), is today's pick. This brew is full of summer notes and its light body and lemony flavor pairs nicely with the Spinach Bread! So that's what I'll be drinking this evening–on the deck–as the sun sets!
Until next week …
Spinach Bread Recipe
1 loaf French bread
2 tablespoons extra virgin olive oil
1 small bunch green onions, thinly sliced
4 garlic cloves, minced
1 8-ounce package cream cheese, softened
2 10-ounce packages frozen chopped spinach, thawed and drained
1 teaspoon Lea & Perrins (Worcestershire sauce)
1 teaspoon fresh lemon juice
1 teaspoon garlic powder
1/8 teaspoon cayenne pepper
1 1/2 cups shredded mozzarella cheese, divided
1/2 cup grated Parmesan cheese, divided
Salt and black pepper to taste
Preheat oven to 350 degrees. Slice bread lengthwise; place on a lightly greased baking sheet. Set aside.

Place olive oil in a large skillet over medium heat. Add green onions and garlic; saute until tender, 3-5 minutes. Add cream cheese, stirring constantly until melted. Reduce heat to low. Add spinach, Lea & Perrins, lemon juice, garlic powder and cayenne pepper; stir to combine. Cook on low until heated through.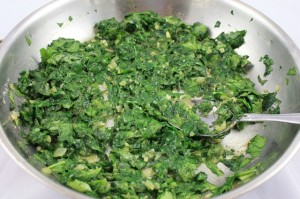 Remove spinach mixture from heat; stir in 1/2 cup mozzarella cheese and 1/4 cup Parmesan cheese. Season to taste with salt and black pepper. Divide spinach mixture between bread slices; spread evenly. Top with remaining mozzarella and Parmesan cheeses.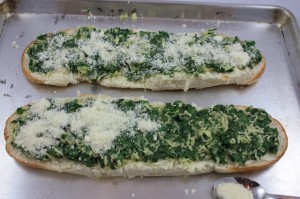 Bake until cheese is melted and bubbly, 12-15 minutes. Slice into 2-inch pieces; serve hot. Serves 6-8.
Genêt