One of the many things I'm proud of is my kids' affinity for fruits and vegetables.  Among the three of them, they eat almost all of them. Unfortunately, though, they don't all favor the same ones. That means some days I'm preparing two or three different fruit bowls or vegetable sides.  But that's okay.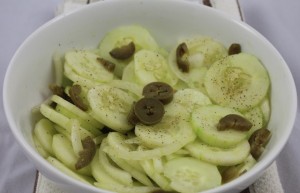 While I will not succumb to the demands of different meals (thankfully, that has never been an issue in this house), preparing two or three different fruits or vegetables a couple of days a week is no big deal.  Most of my fresh fruit and veggie sides are simple anyway, like this Cucumber Salad. Just a handful of ingredients is all it takes to whip up this cool, crisp classic. The jalapeno zing that sets this recipe apart from the masses comes compliments of my mom, who always finds subtle ways to add a little pizzaz to everyday meals.
While we're on the subject of cucumbers, have you ever thought about growing your own? Hint! Hint! Last year we planted a couple of vines in a large pot on the deck. And let me tell you, the whole family had a blast tending to it. The vines grew into beautiful, ornamental shrubs that yielded over 20 cukes. They were low-maintenance too. About the only thing we had to do was train the vines to grow up a trellis and water them regularly.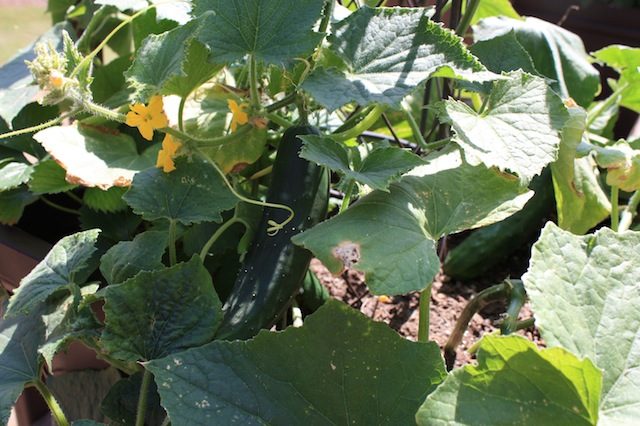 The picture above was taken last year.  This year, our springtime planting was delayed due to the unseasonably cool temps that followed us into early-May. But delays aside, I have no doubt we'll have another bumper crop!
Cucumber Salad Recipe
2 large cucumbers, peeled and sliced
1/2 medium onion, thinly sliced
2 tablespoons sliced pickled jalapenos, drained
2 tablespoons extra virgin olive oil
2 teaspoons red wine vinegar
1/4 teaspoon pickled jalapeno juice
Salt and pepper to taste
Place all ingredients in a medium bowl; stir to combine.  For a crisp salad, serve immediately.  For a wilted (and more flavorful) salad, cover and refrigerate for 2-24 hours.  Serves 2-4.
Genêt