I have another yummy basil recipe for you to try.  It's Basil Chicken Salad.  Think big chunks of chicken coated in a creamy mixture of fresh basil, pungent garlic and sharp Parmesan.  Sounds good, doesn't it?  It's a nice departure from the chicken salad we ate as kids.  There's no celery, no fruit and absolutely no pickle relish.  Just a handful of bold ingredients that become more delicious over time.
To take full advantage of these wonderful flavors as they develop, I've come up with a three-day plan for eating this chicken salad. On day one, after the salad has chilled in the fridge for about an hour, I'll help myself to a large serving accompanied by nothing more than a glass of water (to drink, not mix with the salad).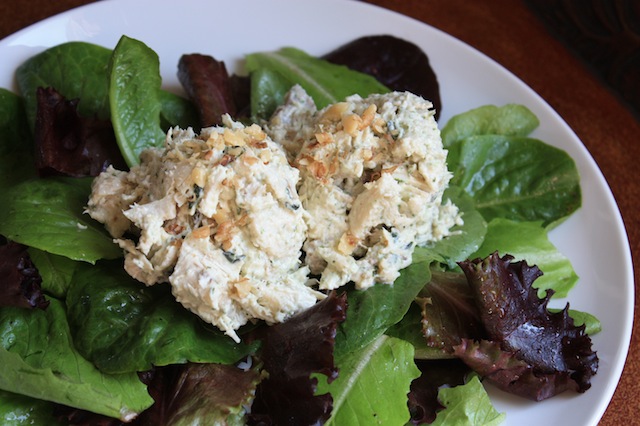 On day two, I'll add another layer of flavor by serving the salad over a bed of tender, mixed greens tossed with a splash of extra virgin olive oil and red wine vinegar. If I'm in the mood for a little crunch, I'll sprinkle the top with chopped walnuts or pecans. And on day three, I'll welcome the "piece de resistance"–a Basil Chicken Salad Poor Boy! By this point, the chicken salad will be at its peak and piling it on French bread with crisp iceberg lettuce and juicy sliced tomatoes will create an incredibly satisfying and comforting meal (the bread will also help calm some of the intense garlic flavor). For the record, a traditional poor boy would also be "dressed" with sliced pickles and a generous slather of mayonnaise (something you need to know when ordering one from any New Orleans establishment). But in this instance, I'll nix the pickles and extra mayo.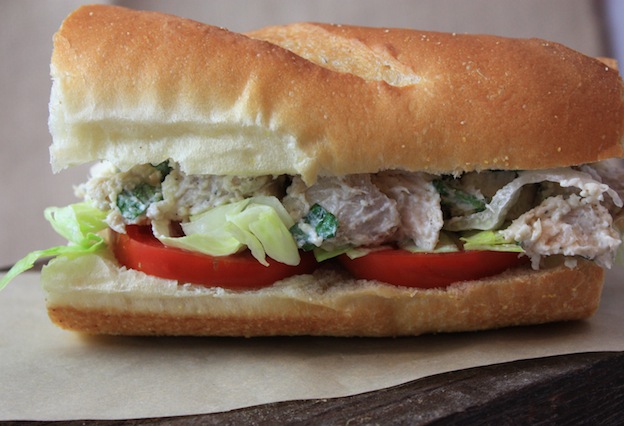 Now don't feel like you need to follow a plan to enjoy this recipe. An appetite for something simple and fresh will suffice!
Basil Chicken Salad Recipe
4 cups diced cooked chicken (see note)
4 garlic cloves, minced
1/2 cup mayonnaise (I use Hellmann's reduced fat with olive oil)
1/2 cup reduced fat sour cream
1 cup fresh basil, chopped
1/2 cup Parmesan cheese
Salt and pepper to taste
Place chicken, garlic, mayonnaise, sour cream, fresh basil and Parmesan cheese in a large bowl; toss well.  Add salt and pepper to taste.  Cover and chill for at least one hour before serving.
NOTE: This salad can be made in a matter of minutes with precooked chicken. If you don't have any on hand, here are a couple of simple ways to cook the chicken for this and similar recipes:
Baked Chicken.  Preheat oven to 350 degrees.  Place four large bone-in, skin on chicken breasts skin side up in a baking pan.  Rub chicken with olive oil; season with salt and pepper.  Roast until chicken is cooked through, about 35-40 minutes.  Set aside.  Debone chicken once it is cool enough to handle; discard skin and bones.  Dice meat.
Poached Chicken.  Buy one whole roasting chicken (3-5 pounds).  Remove and discard the giblet bag from inside the cavity.  Place chicken in a large stockpot.  Add one large onion (peeled and halved), one celery stalk and one carrot (celery and carrot only need to be rinsed before adding to the pot).  Add enough cold water to cover chicken by several inches.  Place stockpot over medium-high heat; slowly bring to a simmer.  Partially cover pot; cook for 45 minutes.  Do not allow water to come to a boil.  Do not stir the pot.  (This will keep the chicken tender and the stock clear.)  Remove pot from heat, cover completely with lid and allow chicken to stand in hot liquid for an additional 30-60 minutes (the chicken will finish cooking during this time).  Skim impurities from surface of stock.  Transfer chicken to a platter.  Debone chicken once it is cool enough to handle; discard skin and bones.  Dice meat.  Strain stock; discard solids.  Freeze stock for another use.

Serves 6-8.
Genêt