Are there certain foods you love but haven't had in years?  It could be a favorite childhood dish or maybe one of the first things you learned to cook on your own.  If your answer to that question is yes, have you ever stopped to ask yourself why?  I do that Q&A thing throughout my daily ritual of "recipe diving" (the fine art of digging through years and years of recipes for inspiration and sustenance) and meal planning.  That question is also one of the reasons I started this blog–to protect "endangered" foods. You know, the ones on the verge of being forgotten because no one cooks them anymore?  Like the Artichoke Balls I'm preparing today.  From the 1970s to the 1990s, just about every local community and church cookbook referenced them and every family social revolved around them.  Then, without warning, poof.  They were gone.  No one made them anymore, no one talked about them and no one seemed to care why.  This once popular finger food was replaced by the likes of Buffalo wings and cheese dip. Fortunately, my sister never forgot about this special party food. She made a big batch for my surprise 40th birthday party. I credit her with reintroducing the recipe to our family and reminding me of how much I love them!
Artichoke Balls are savory, one-bite morsels made with pantry staples and a couple of cans of artichoke hearts. They're not the most photogenic, thanks to the white blanket of Parmesan cheese (or maybe it's the amateur photography), but they're mighty tasty.  If you research the recipe, you'll generally find a baked version and a no-cook version. Our family has always made the no-cook version, although I don't recall us ever binding them with raw egg (as called for in many recipes). I can't stomach the thought of using raw egg in a no-cook recipe, especially when I know the food is going to sit at room temp for some period of time. I've learned that if you chill the artichoke mixture first, you'll have no problem forming the ingredients into balls. Also, I probably need to throw out a disclaimer that I go heavy on the garlic. Feel free to back off of some of it if you think it's too much.
An old school recipe deserves to be enjoyed with an old school cocktail.  So on this Finger Food Friday I'll be sipping a Bombay Sapphire Martini (extra dry)–it should be really, really good since I haven't had one in a while.  Now if I were at some swanky bar, I'd order my martini straight up because they'd chill it to perfection with little slivers of ice floating on the top.  Since I'm at home, however, I'm making it on the rocks with extra garnish. That will carry me well into the night.  If my cocktail's too stiff for your taste, there's always Miller Lite. Either way, you'll be in good company!
I hope today's post inspires you to seek out and recreate a favorite dish from your past. It's a fun way to reminisce and share yourself with others!
Until next week …
Artichoke Balls Recipe
2 14-ounce cans artichoke hearts, drained and chopped
4 garlic cloves, minced
1/2 cup plus 2 tablespoons Italian bread crumbs
1 cup Parmesan cheese, divided
2 tablespoons extra virgin olive oil
Salt and pepper to taste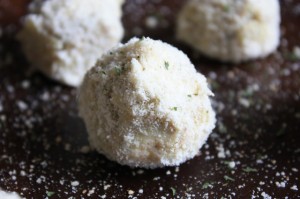 Place artichokes in a large bowl; mash with a potato masher.  Add garlic, bread crumbs, 1/2 cup Parmesan cheese, olive oil and salt and pepper to taste; stir to combine. Cover and place mixture in the refrigerator for at least one hour (the mixture is much easier to form into balls when chilled). Pour reserved 1/2 cup Parmesan cheese in a shallow dish. Form artichoke mixture into balls about 1-inch in diameter; roll in Parmesan cheese. Transfer to a serving platter. Serve cold.  Makes approximately 3 dozen artichoke balls.
Bombay Sapphire Martini Recipe
1 teaspoon Martini & Rossi Extra Dry Vermouth
2 jiggers Bombay Sapphire Gin
1 green olive or pepperocini for garnish
Pour vermouth into a chilled martini glass; swirl to coat the inside of the glass.  Pour out excess vermouth.  Fill glass with ice.  Add gin; stir.  Garnish with a green olive or pepperocini.  Makes 1 cocktail.
Genêt