I've got football fever bad and it's not even August! I think it's from the flood of news coverage following the NFL owners/players agreement. I'm just thrilled the season will start as scheduled. And by the sound of things, the Saints are building another winning team. Isn't it exciting? And you know, the only thing better than watching football is throwing a football party. Which brings me to today's finger food. I'm revisiting Caesar Salad Pancetta Cups–one of the dishes I hurriedly prepared for last season's Super Bowl. Back in February, I neither had time to take pictures to show you how easy these salad cups are to make nor share my thoughts on advanced prep. So I'm doing that today.
One of the attractions of this dish is its simplicity. This is nothing more than a Caesar salad served in a crispy bacon bowl. The presentation, however, makes it look like you spent hours in the kitchen! When preparing the pancetta cups, don't get flustered if they slide around on the muffin tin or tear a little bit (if you end up with a big tear, lay a second slice of pancetta over the first before baking). None of those things will matter once they're baked. The only important thing to remember is to handle them carefully once they're done because they will break easily. If you do end up breaking one, toss it in with the salad or, better yet, eat it (my preference)! The pancetta cups can be made one day ahead of time. Once they're baked, allowed them to cool completely and carefully store them in a large Tupperware container stacked between sheets of waxed paper.
Regarding the salad, how you slice the lettuce is almost as important as the dressing. The lettuce needs to be small enough to sit nicely in the palm-size pancetta cups. I've shared my "shredding" technique with you because I find it works best–the lettuce leaves are chopped fine enough to fit in the cups without losing all of their crunchy texture. This step can also be done in advance. Just be sure to store the shredded lettuce in an air-tight container in the refrigerator along with a dry paper towel (to absorb any residual moisture) until ready to use.
Finally, the salad dressing. This mixture can be pulled together two or three days ahead of time and stored in the fridge. On the day of your get-together, allow the dressing to come to room temperature before mixing with the salad greens. While the dressing is sitting, rewarm the pancetta cups on a baking sheet for 5 minutes in a preheated 325 degree oven. Once they're warm, fill the pancetta cups with the salad and garnish with your crunchy topping of choice! Now that I've finally got all of that squared away, it's on to this evening's beverage ….
I was actually on the fence about what to drink with my lovely Caesar Salad Pancetta Cups. My first thought was to shake up a Smooth Sailing (a warm-weather-inspired family favorite). But the more I thought about it, the more I craved a beer. And, while this should come as no surprise, I've discovered yet another delicious brew. It's called Little Sumpin' Wild Ale" (Lagunitas Brewing Company, Petaluma, California), which is the "big sister" of the "Little Sumpin' Sumpin Ale." Gotta love the names, right? I mean, where do these guys come up with these titles? It's crazy. But I love it. And even the hubby's quick to acknowledge that "my" beers (unlike "his" Miller products) have much cooler names!
Well, until next week …
Caesar Salad Pancetta Cups Recipe
Pancetta Cups
36 slices pancetta (1/8-inch thick)
Caesar Salad
8 cups shredded Romaine lettuce
2 tablespoons Parmesan cheese, divided
1/3 cup extra virgin olive oil
4 teaspoons fresh lemon juice
1 teaspoon Dijon mustard
1 teaspoon anchovy paste*
1 garlic clove
3 turns freshly ground black pepper
1/2 cup crispy fried onions or croutons
FOR PANCETTA CUPS:  Preheat oven to 375 degrees.  Line a large baking sheet with aluminum foil.  Invert a 12-cup muffin tin; place it on baking sheet.  Drape a slice of pancetta over each cup.  Bake 10-15 minutes, or until crispy.  Remove pancetta from oven and allow to cool a couple of minutes before handling.  Repeat process until all of the pancetta has been cooked.  Set aside.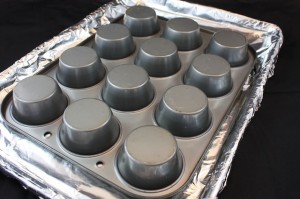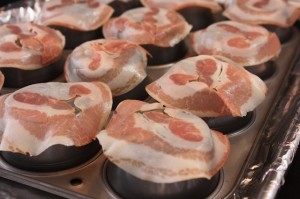 FOR CAESAR SALAD:  Shred lettuce by first slicing a stack of leaves in half, lengthwise, then rolling the stack and slicing it thinly crosswise.  Place lettuce in bowl; toss with 1 tablespoon Parmesan cheese.  Set aside.  Make dressing by combining olive oil, reserved tablespoon of Parmesan cheese and next 5 ingredients in a blender; process until smooth.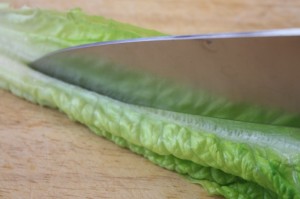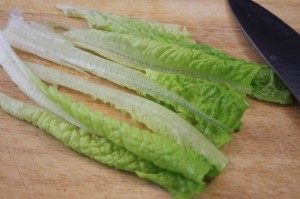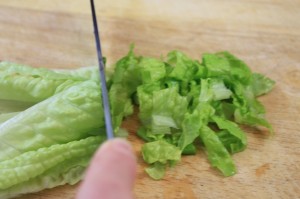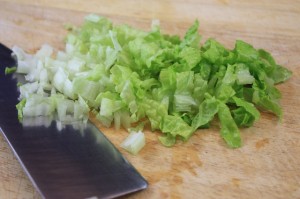 ASSEMBLY:  Toss lettuce and Parmesan mixture with desired amount of dressing (may have some leftover).  Fill each pancetta cup with salad.  Sprinkle with crispy fried onions or croutons.  If using croutons, crumble into small pieces.  Makes 36 cups..
*Anchovy Paste comes in a convenient tube packaged in a yellow box. It can usually be found on your grocery store shelves near the canned anchovies and tuna.
Genêt