This Tomato-Pesto Tart is a deliciously savory hand-me-down recipe.  My sister's mother-in-law Pat handed it down to my sister Giselle who handed it down to me.  Maybe what I should have said is that my sister simply handed it over to me since we're of the same generation.  Either way, I've got a copy and I'm sharing it with all of you!
This tart could easily be called "Summer Pie" because it hits two of the most vibrant flavors of the season, tomatoes and basil. For the best tasting tart, use the freshest ingredients. If you can get your hands on Creole or some other locally grown tomato, by all means use them. But basically, any variety of tomatoes from the Farmer's Market, a roadside vegetable stand or a backyard vegetable garden will taste great. They'll all deliver much more flavor than anything you'll pick up at the grocery store. Same goes for the basil pesto. It's worth the effort to make it from scratch.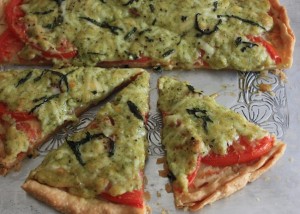 On the beverage front, I'm feeling like beer is in order for this Finger Food Friday.  It must be the pizza vibe I'm getting from the tart. It may also be because I recently discovered a new favorite, Smuttynose Big A IPA (Smuttynose Brewing Co., Portsmouth, NH).  This beer is heavy on the hops, pine and grapefruit with just the right amount of carbonation. You really should try it. But don't worry, I won't be offended if you end up drinking something else.
Until next week, …
Tomato-Pesto Tart Recipe
1 15-ounce package refrigerated pie crusts
2 cups shredded mozzarella cheese, divided
2-3 large or 5 small tomatoes, sliced
1/4 cup grated Parmesan cheese
1/2 cup mayonnaise
2 tablespoons basil pesto
1/2 teaspoon freshly ground pepper
3 tablespoons chopped fresh basil
Preheat oven to 400 degrees.  Soften pie crusts per package directions; unfold. Stack crusts on a lightly greased baking sheet; roll into a 12-inch circle.  Brush edges with water; fold or crimp.  Prick bottom with a fork; bake until golden brown, 8-10 minutes. Remove from oven; sprinkle 1 cup mozzarella cheese over warm crust. Allow crust to cool for 15 minutes.  Reduce oven temperature to 375 degrees. Arrange tomato slices over cheese.  In a small bowl, combine reserved 1 cup mozzarella cheese, Parmesan cheese, mayonnaise, basil pesto and pepper. Spread pesto mixture over tomatoes. Top with fresh basil. Return to oven; bake until crust is golden brown and pesto topping is bubbling, 20-25 minutes. Cut into wedges; serve warm. Serves 6-8.
Genêt