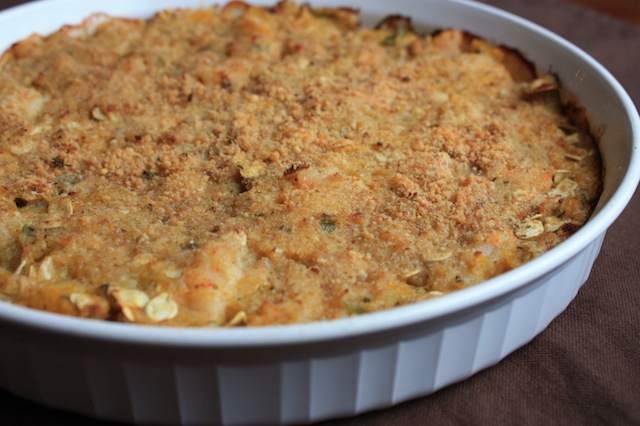 Last weekend, we returned home from our family vacation in Destin, Florida to find a handful of summer squash (yet another family garden project) eager to be picked. They were beautiful, but in an odd way.  Their pale orange color and firm, bumpy skin made we question if we had planted what I thought was yellow crooknecks.  I didn't think much more about it until I went to prepare the squash for this recipe  Their usually tender skin was tough to penetrate with the knife.  So I decided to peel the outer layer, which did make for easier slicing.  I then tossed the squash in a pot of boiling water to soften them up.  While the squash was cooking, I ran to the Mac to do a little Googling on the subject.  Suffice it to say, I now understand the error of my ways!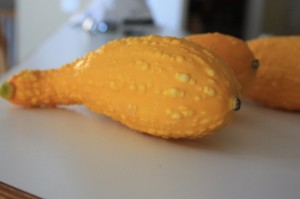 Before I share my newfound knowledge, let me say in my defense that this is my/our first time growing summer squash. No, we didn't do any research ahead of time, but ….  The kids' eagerness and excitement was all that mattered to us when we started this project.  We let them pick out an assortment of veggies at the local nursery and I stuck them in the ground.  No consideration was given to sun orientation or soil pH.  No time was spent on weed or bug prevention or control.  It was gardening on-the-fly!  If the plant flourished, great.  If it flopped?  Oh well!  Anyway, I learned that yellow squash are fast growers that need to be picked when they're immature, about 5-7 days from the flowering stage.  Our batch was obviously "over-mature."  Fortunately, over-mature squash can be salavaged by peeling the tough, outer-skin and scooping out the hard seeds.  Thankfully, I thought to peel the skin.  If only I had thought to remove the seeds.
Once the squash was cooked, I drained it and proceeded with the rest of my recipe.  It came together nicely with all the seasonings, shrimp and Parmesan.  While it was baking, my girls commented on how great it smelled.  And it tasted even better.  Only one problem.  The seeds.  We all struggled with them.  At one point, the kitchen sounded like a sunflower seed spitting contest.  I quickly showed my three little "farm-to-table-apprentices" how to eat around them.  All was good.  Lessons learned.
Baked Summer Squash and Shrimp Recipe
6 yellow squash, diced
4 tablespoons extra virgin olive oil, divided
1/2 cup chopped onions
1/2 cup chopped green onions
2 garlic cloves, minced
1 pound medium shrimp, peeled and deveined
1/2 cup Italian bread crumbs, divided
1/2 cup Parmesan cheese, divided
1 teaspoon dried oregano leaves
1/8 teaspoon cayenne pepper
Salt and black pepper to taste
Preheat oven to 375 degrees.  Place squash in a medium saucepan.  Cover with water and bring to a boil.  Cook until squash is tender, about 5 minutes.  Drain and set aside.  In a large saucepan over medium-high heat, heat 2 tablespoons olive oil.  Add onions and green onions; saute 2 minutes.  Add garlic; saute 1 minute, stirring frequently to prevent garlic from burning.  Stir in shrimp; cook until shrimp turn pink, about 5 minutes.  Reduce heat to low.  Add squash, 1/4 cup bread crumbs, 1/4 cup Parmesan cheese, oregano and cayenne pepper.  Season to taste with salt and black pepper.  Transfer squash mixture to a lightly greased 2-quart baking dish.  Sprinkle top with reserved 1/4 cup bread crumbs and 1/4 cup Parmesan cheese.  Drizzle remaining 2 tablespoons olive oil over bread crumbs and Parmesan cheese.  Bake until golden brown and bubbling, 20-25 minutes. Serves 4-6.
Genêt