When the portobello mushroom craze hit the food world in the late 1980s, I reluctantly embraced it. Like most New Orleanians, I wasn't easily swayed by this trendy new ingredient. And quite honestly, that balsamic marinated grilled version that initially flooded restaurant menus was hardly appetizing–especially when compared to the delectable seafood stuffed white buttons I was accustomed to. At the same time, however, I felt compelled to like them and learn how to successfully cook with an ingredient which, up to that point, I had only read about in the food mags. Well it's a good thing I did, considering portobellos ended up being more than a trend. Once it became obvious that these fleshy fungi were here to stay, I began to let my defenses down and started finding creative ways to keep them in my vegetable rotation. Over the years, I've added them to garden fresh quesadillas and robust soups and have discovered that they too can hold their own when stuffed with the right ingredients.
The woodsy flavor and meaty texture of the portobellos make them the perfect base for hearty fillings with bold flavors, like this rice, poblano chile, spinach and cheese mixture. They're surprisingly creamy and comforting with just the right amount of smokiness and spice. What's more, one over-stuffed cap is a meal in and of itself.
Stuffed Portobello Mushrooms Recipe
4 poblano chiles
4 large portobello mushrooms
1 5-ounce package Mahatma Long Grain & Wild Rice
3 tablespoons olive oil, divided
1/3 cup chopped onions
2 garlic cloves, minced
2 cups fresh spinach, stemmed and chopped
1/4 cup sharp cheddar cheese
1/4 cup fresh cilantro, chopped
1/8 teaspoon cayenne pepper
1 tablespoon Lea & Perrins (Worcestershire sauce)
Salt and black pepper to taste
FOR POBLANO CHILES:  Char poblano skins by placing whole chiles directly on a gas burner or under a preheated broiler.  Occasionally turn peppers with tongs until blackened on all sides, about 4-5 minutes.  Immediately transfer peppers to a brown paper bag; seal tightly.  Let cool.  Remove peppers from bag one at a time.  Place under cold running water; rub poblanos with your fingers until all the charred skin has been removed.   Remove stem and seeds.  Coarsely chop peppers; set aside.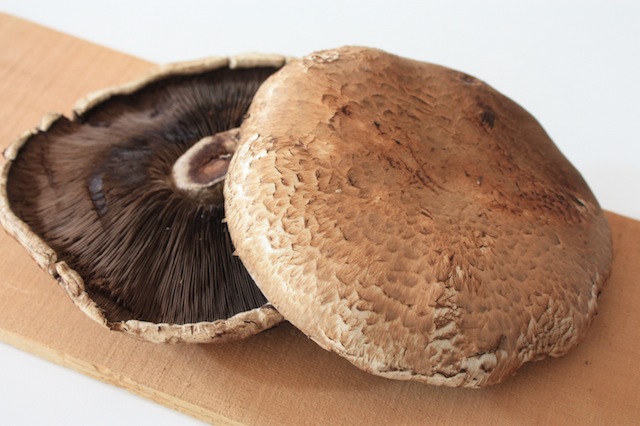 FOR PORTOBELLO MUSHROOMS:  Clean portobellos by gently wiping the tops with a damp paper towel (to remove any lingering dirt).  Flip mushrooms over.  Remove stems by firmly grabbing and twisting them.  Scrape out gills (the dark brown feathery things on the underside of the cap) with the side of a teaspoon.  Set aside.
FOR STUFFING:  Prepare rice according to package directions.  While rice is cooking, heat 1 tablespoon olive oil in a large saucepan over medium-high heat.  Add onions and garlic; cook over moderate heat until softened, stirring frequently to prevent garlic from burning, about 6 minutes.  Add spinach; cook until wilted, about 1 minute.  Remove pan from heat; drain excess liquid.  Stir in poblano chiles, rice, cheese, cilantro and cayenne pepper.  Season to taste with salt and black pepper.
ASSEMBLY:  In a small bowl, combine remaining 2 tablespoons olive oil and Lea & Perrins; brush both sides of mushrooms with olive oil mixture.  Season with salt and black pepper.  Evenly distribute stuffing among mushrooms; mound slightly.
BAKE:  Preheat oven to 350 degrees.  Transfer stuffed mushrooms to a large baking dish; bake until cheese is melted and top is lightly browned, 15-20 minutes.
Genêt