Hey everyone!  Welcome to this week's edition of Finger Food Friday.  Today I'm sharing a New Orleans finger food classic, Barbecue Shrimp. Let's see.  How can I describe them?  Warm … buttery … spicy … aromatic … savory … tangy … piney … juicy … peppery … woodsy … garlicky … lusty … exciting … dramatic … and last, but definitely not least, gloriously messy!  The dish was created back in the 1950s in the restaurant kitchen of Pascal's Manale in Uptown New Orleans.  Nowadays, they can be found on just about every menu in the City.
As much as I love this dish, I take issue with a couple of things.  For one, the name is misleading since these shrimp are neither cooked on a backyard grill nor slathered with barbecue sauce.  They're baked in the oven in a delicious concoction of butter and spices.  And the spelling?  Aaaahhhhh!  Is it barbecue or barbeque?  Bar-be-cue or -que?  Should it have a "d" at the end or not?  I've struggled with that one for years.  Not even my vast collection of New Orleans cookbooks could help me sort it out.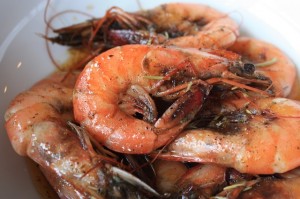 As a matter of fact, that search made matters worse.  Would you believe I found one recipe that had different spellings in the title and the description?  Uggghhhh!  So as a last resort (or so I thought), I called Pascal's Manale.  "Hello, can you please tell me how you spell barbecue/barbeque shrimp on your menu?"  The nice woman on the other end of the line politely responded, "B-B-Q."  What?  That's it?  A simple acronym to describe one of New Orleans' most iconic dishes?  Don't worry.  I didn't blab all that over the phone.  I simply said thank you and hung up in utter disappointment.  For mental health's sake, I had to settle on a spelling I could live with so I chose "b-a-r-b-e-c-u-e."  Sorry if you disagree, but I'm officially done with that issue.  Now for the origins of my recipe, which are no less interesting.
Many years ago, long before there ever was an Iron Chef, my in-laws (Poppy and V) and their brothers and sisters would organize fun, competitive Saturday night dinners.  They'd select one dish that each couple had to prepare in their own, unique way.  One of those competitive events centered on Barbecue Shrimp.  That evening, after the last morsel of shrimp had been tasted and rated, it was Aunt Rose's version that took top honors.  If I had to guess, I'd say copious amounts of butter and lots of rosemary (no pun intended) gave her the winning edge.  Early in my marriage, Poppy graciously shared that recipe with me along with the story attached to it.  It's one I look forward to passing on to my own kids in the not to distant future!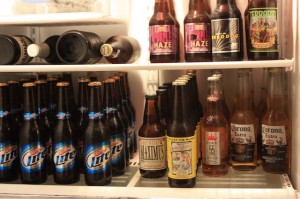 My Barbecue Shrimp recipe is a trumped-up version of Aunt Rose's.  It's meant to be prepared with head-on shrimp (which contain plenty of fat that makes the sauce extra rich), eaten with your sleeves rolled up and your elbows on the table and enjoyed with lots of French bread and a large variety of cold beer.  As you can see by the looks of my second fridge, I'm ready to start the weekend.  So, until next week, …
Barbecue Shrimp Recipe
3 pounds medium (26-40 count) or large (16-25 count) shrimp, heads on and shells on
1 cup olive oil
3 garlic cloves, minced
2 tablespoons Lea & Perrins (Worcestershire sauce)
2 tablespoons Kosher salt
2 tablespoons black pepper
2 tablespoons dried rosemary leaves
1 tablespoon dried oregano leaves
1 teaspoon white pepper
1 teaspoon cayenne pepper
1 teaspoon paprika
2 sticks butter, melted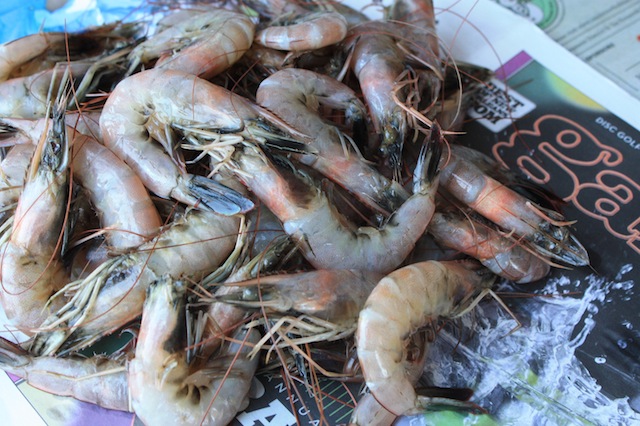 Place shrimp in colander.  Rinse under cold water; drain.  Spread shrimp across a large, rimmed baking pan (I use the insert to my rectangular chafing dish; a shallow broiling pan works well too).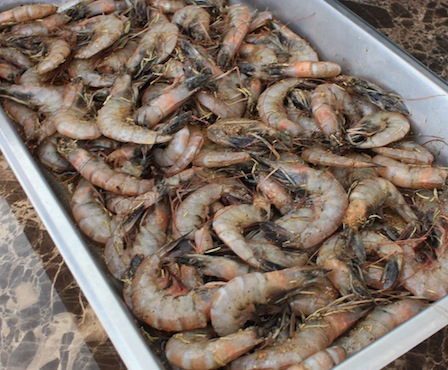 In a separate bowl, combine olive oil and next 9 ingredients.  Pour olive oil mixture over shrimp; gently toss to coat.  Marinate shrimp in the refrigerator for at least 1 hour, stirring periodically.
Preheat oven to 350 degrees.  Remove baking pan from refrigerator; pour melted butter over shrimp.  Bake until shrimp are pink and start to pull away from their shells, 15-20 minutes, turning shrimp every 5 minutes.  NOTE:  Cooking times vary greatly based on the size of your shrimp, the baking dish and your oven's "personality."  Keep a close eye on the shrimp so they don't overcook.  Makes 4-6 servings.
Genêt