In New Orleans and throughout most of Louisiana, white rice rules.  Even in today's more health conscious kitchens, it continues to be the predominant starch of the region.  Any attempt to sever the relationship between this shiny white grain and time-honored culinary classics such as red beans and rice, gumbo, jambalaya and etouffee, could have you looking over your shoulder and wondering, "Who put the gris gris on me?"  The fear of evil spells aside, there is room in even the New Orleans diet for other–more nutritious–grains.  It simply has to be on the right plate at the right time.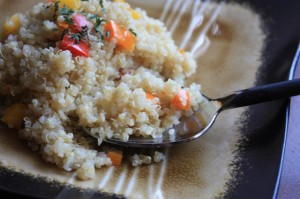 Quinoa (pronounced "keen-wah") is one of those super whole grains worthy of plate space.  It's classified as super because it's one of the only whole grains containing all essential amino acids–that makes it a complete protein.  Technically a seed, quinoa is full of vitamins and minerals, high in fiber and gluten-free.  I'm a fan because it's a quick-fix carb that doesn't leave me feeling sluggish.  I also appreciate the fact that quinoa's fluffy, creamy and slightly crunchy texture pairs well with any leftover protein I'm able to recover from the fridge (like boiled shrimp or grilled chicken).  And while it will never replace the bed of steamy, long-grain white rice that cradles my favorite New Orleans flavors, quinoa will always have a place in my kitchen and on my plate.
Quinoa with Bell Peppers and Onions Recipe
1 cup quinoa
2 cups chicken broth
3 tablespoons extra virgin olive oil
1/4 cup chopped onion
1/4 cup chopped yellow bell pepper
1/4 cup chopped red bell pepper
1/4 cup chopped orange bell pepper
1 teaspoon Kosher salt
1/8 teaspoon black pepper
Place quinoa in a fine mesh sieve; rinse thoroughly under cold water (until all the soapy-looking bubbles disappear); drain.  Transfer quinoa to a medium saucepan; add chicken broth and bring to a boil.  Reduce heat to simmer; cover and cook until most of the broth is absorbed, about 10 minutes.  Remove quinoa from heat; stir and let sit an additional 5 minutes, covered.  Fluff with a fork and set aside.  In a large bowl, combine olive oil, onion, bell peppers, salt and black pepper.  Cover and microwave on high for 1 minute.  Add quinoa to onion mixture; stir to combine.  Serve warm.  Makes 4-6 servings.
Genêt