Spring is a great time of year to visit New Orleans.  In addition to the near-perfect weather and usual attractions, there are festivals gallore!  These "weekend socials" bring families, friends and communities together to pay homage to the City's unique melange of culture, cuisine and commerce.  Today, for instance, marks the beginning of the 38th Annual Greek Fest at the Hellenic Cultural Center near City Park.  This 3-day extravganza celebrates all there is to love about the Greek culture, which firmly planted its foot in New Orleans soil back in the 1850s–did you know the very first Greek community established in the United States was in our grand City?  That's a fun fact worth passing on, isn't it?  Also worth sharing, are this evening's events which kick off with plenty of authentic food, beverages, arts & crafts and entertainment.  Some other unique features worth noting are a 5K Walk/Run, guided Cathedral tours, an extensive display of Greek Orthodox artifacts, canoe rides and a "Toga Party."  There's also a large amusement park dedicated strictly to the kids!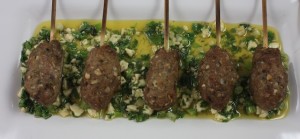 This is the spirit of New Orleans.  Many people think my hometown is filled with nothing more than Creole and Cajun food and funk.  This couldn't be further from the truth!  As a principal port city, New Orleans' cultural heritage encompasses many countries from around the globe. While some are more prominent than others, they're all an integral part of the fabric of the City.  In keeping with the spirit of this weekend's celebration, today's Finger Food Friday post is saluting Greek culture with Greek Lamb Skewers with Feta Salsa.  These little bites are nothing more than meatballs on a stick topped with a tangy feta and herb sauce.  They're fun and filling–just right for a lazy evening!  Surprisingly, though, I haven't given much thought to an adult beverage to accompany them.  Thank goodness, my "default brews" (Terrapin Hopsecutioner and Miller Lite) are only an arms-length away!
Until next week, Opa!
Greek Lamb Skewers Recipe
1 pound ground lamb
Zest and juice of 1/2 lemon
2 garlic cloves, minced
1 teaspoon dried rosemary leaves
1 teaspoon dried oregano leaves
1 teaspoon dried thyme leaves
1 teaspoon Kosher salt
1/2 teaspoon baking soda
1/4 teaspoon black pepper
1/8 teaspoon cayenne pepper
Olive oil, for drizzling
If using wooden skewers (the 6-inch flat bamboo skewers work great for appetizer servings), soak in water for 30 minutes to keep from burning during the cooking process.  In a large bowl, combine the lamb and next 9 ingredients (through the cayenne pepper).  Knead lamb mixture until it turns sticky and holds its shape.  Cover and refrigerate 1-2 hours.  Pull off a small ball of meat; shape into a fat cylinder.  Thread a skewer lengthwise through the middle of the cylinder.  Repeat process with remaining lamb mixture.  Place skewers on a lightly greased baking sheet.  Drizzle with olive oil.  Prepare grill for direct cooking over medium-high heat.  Arrange skewers on hot grill.  Cook, turning occasionally, until browned and cooked through, about 6 minutes.  Transfer skewers to a serving platter; spoon Feta Salsa on top.  Serves 4-6.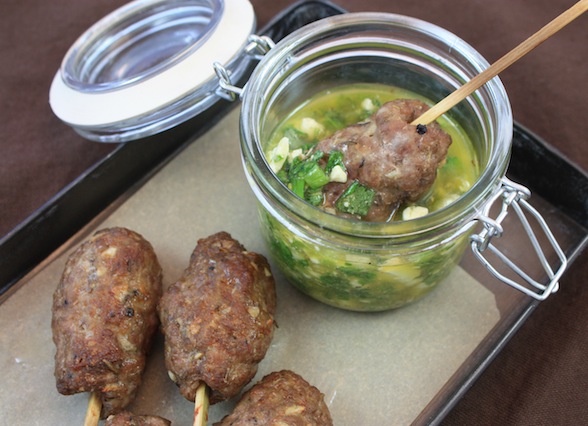 Feta Salsa Recipe
1 cup chopped flat-leaf parsley
1/4 cup chopped fresh mint
2 tablespoons chopped green onions
1 tablespoon anchovy paste
1 teaspoon fresh lemon juice
1 teaspoon dried oregano leaves
1 garlic clove, minced
1/4 teaspoon salt
1/2 cup extra virgin olive oil
1 4-ounce package feta cheese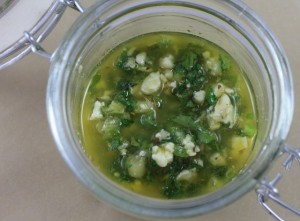 In a medium bowl, combine the parsley, mint, green onions, anchovy paste, lemon juice, oregano, garlic and salt.  Gradually whisk in olive oil; stir in feta.  Serve immediately or cover and refrigerate for up to 1 week.  Makes 1 cup.
Genêt