I have no intentions of preheating the oven or even lighting up the grill today.  It's just too doggone hot to play with fire inside or out, if you know what I mean. So, I'm planning three no-cook meals beginning with fresh strawberries and a hard-boiled egg for breakfast and ending with Prosciutto-Wrapped Asparagus and a refreshing cocktail for dinner.
Now I don't know about you, but I was raised on only a handful of fresh vegetables and asparagus wasn't one of them. No, the asparagus I was familiar with came from the grocery store shelves. I'm not complaining. I loved those asparagus. And would generally eat them straight out of the can (actually still do on occasion). They were even better when my mom would lightly dress them with oil, vinegar, salt and pepper or add them to her dinner salads. This recipe was inspired by those wonderful memories. I've simply taken cool, crisp fresh asparagus, wrapped them in a thin slice of rich prosciutto and topped them with a zingy dressing. Perfect for a midsummer night's Finger Food Friday.
For an equally cool and crisp Happy Hour beverage, I'm making a White Wine Spritzer.  A spritzer is simply a combination of any variety of wine and some type of carbonated water like club soda, seltzer or sparkling water.  My spritzer will consist of equal parts Cupcake Vineyards Sauvignon Blanc and Perrier Citron (because that's what I have on hand). Add more wine and less carbonated water for a stronger spritzer.   And ice if you're unable to chill the wine and water ahead of time.
Until next week, …
Prosciutto-Wrapped Asparagus Recipe
1 bunch fresh asparagus
1/4 pound sliced prosciutto
3 tablespoons red wine vinegar
2 garlic cloves, minced
6 tablespoons extra virgin olive oil
Salt and freshly ground pepper to taste
With a sharp knife, remove tough, woody ends from asparagus.  Bring a large saute pan of water to a boil.  Add asparagus; boil until crisp-tender, 2-3 minutes.  Using tongs or a large slotted spoon, transfer asparagus to a large bowl of ice water; cool completely. Drain and pat dry with paper towels.  Slice prosciutto in half lengthwise. Wrap each asparagus spear with one piece of prosciutto.  Arrange on a serving platter.  Set aside.  In a small mixing bowl, combine vinegar and garlic.  Slowly whisk in olive oil.  Season to taste with salt and pepper.  Pour half the dressing over asparagus, cover tightly with plastic wrap and refrigerate at least 2 hours before serving.  Serve cold or at room temperature with remaining dressing on the side for dipping.  Serves 4-6.
White Wine Spritzer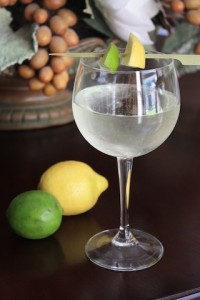 4 ounces white wine, chilled
4 ounces lemon-lime flavored carbonated water, chilled
Lemon and lime garnish
Pour wine and carbonated water into a wine glass; garnish with lemon and lime.  Makes 1 serving.
Genêt