I know … you read the title of this post and thought rice? Why a post about cooking rice? Well, in New Orleans rice is a big deal. Aside from being a top cash crop, it serves as a breakfast, lunch and dinner staple. However, it's probably one of the most overlooked ingredients, in terms of preparation. It tends to get overshadowed by the time and effort needed to create the great foods that are commonly ladled over it like Gumbo, Red Beans, Étouffée and Shrimp Creole. But it's sooooo important. A mushy or slightly burned pot of rice could ruin the reputation of even the best pot of Gumbo! That's why, after having my own run-ins with boiled rice, I was happy to stumble upon the baked method!
Baked Rice is foolproof. No more over-cooking, boiling over or burning. Simply throw it in the oven and set the timer.  It turns out perfect every time.  I learned about this neat cooking technique many moons ago from my good friend Chef Paul Prudhomme
(okay, we're not actually friends but I feel like I know him very well since I've cooked from his books for some 20 years now). His baked rice, on which my recipe is based, includes the Holy Trinity (onions, celery and bell peppers).  I've made it that way a couple of times and it's delicious.  But for "everyday rice," I prefer a simpler version.
For serving purposes, this recipe makes 6 cups of cooked rice.  That equates to 12 "cup" servings, 6 "bowl" servings or an undetermined amount of "side" servings–especially if your kids figure out how delicious it is!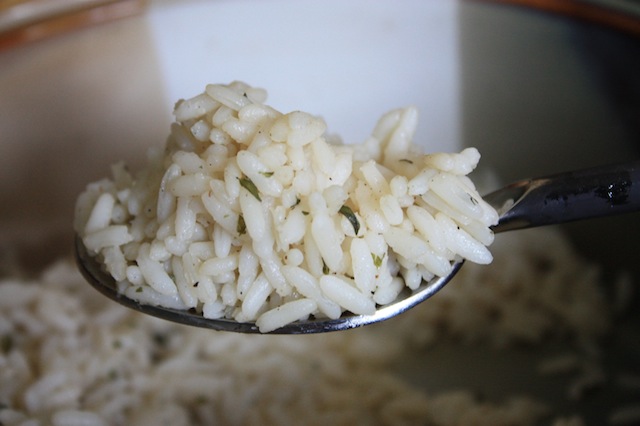 Baked Rice Recipe
2 cups uncooked rice (I use Uncle Ben's original converted)
4 cups chicken stock or water
1 tablespoon parsley flakes
1 tablespoon unsalted butter
1 teaspoon salt
1/2 teaspoon garlic powder
1/4 teaspoon black pepper
Preheat oven to 350 degrees.  Combine all ingredients in a 2-quart baking dish.  Cover.  If baking dish does not have a matching lid, seal tightly with aluminum foil.  Bake until rice is tender and all the water is absorbed, about 1 hour.  Carefully remove cover and fluff rice with a fork.  Serve immediately. Makes 6 cups.
Genêt