Are you into creamed vegetables? Creamed corn maybe? What about creamed carrots or creamed peas? I've always been a fan of canned creamed corn. And my mom stills makes the best creamed carrots this side of the Bunny Trail. But I didn't have creamed peas until I was in my late teens. The mother of a friend made them every Thursday night to serve alongside her weekly meatloaf and mashed potatoes dinner. I shared that meal with my girlfriend's family many of times. And although the meatloaf and mashed potatoes were divine, it was the creamed peas that made a lasting impression. Back then, I didn't think to ask my friend's mom for the recipe. So I created my own based on the flavors I remember.
Creamed peas are peas cooked in a light roux. What I call a blond roux. For this particular dish, I use a combination of butter and bacon fat as the foundation for the roux and add onions and garlic to that. From there, I pour in two cans of my favorite peas–Le Sueur Very Young Sweet Peas in the can–and season everything with a dash of Lea & Perrins and a sprinkle of cayenne pepper, black pepper and salt. Simple and scrumptious. My Peas in a Roux come out rather thick. But you can make them more gravy-like by simply adding either chicken broth or water towards the end of the cooking time. Either way, these peas are heavenly served as a side dish or spooned over rice or mashed potatoes.

Peas in a Roux Recipe
6 tablespoons butter
2 tablespoons bacon fat
1/2 cup all purpose flour
1/2 cup finely chopped onions
1 garlic clove, minced
2 15-ounce cans Le Sueur Very Young Small Sweet Peas, with liquid
1/2 teaspoon Lea & Perrins (Worcestershire sauce)
1/8 teaspoon cayenne pepper
Salt and black pepper to taste
In a medium saucepan, make a roux by melting the butter and bacon fat over medium-high heat.  Gradually add the flour, whisking carefully and vigorously after each addition until smooth.  Reduce heat to medium-low.  Continue whisking until the roux is blond in color, about 5 minutes.
Add the onions and garlic.  Cook, whisking constantly, until the vegetables begin to soften, about 5 minutes.  Add the peas, pea liquid, Lea & Perrins and cayenne pepper.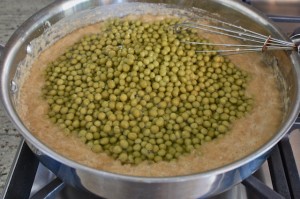 Continue whisking until the roux is completely dissolved in the pea liquid.  Reduce heat to low and continue cooking until the peas are heated through and the sauce has thickened, about 10 minutes.  Season to taste and salt and black pepper.  If the sauce is too thick, whisk in a little chicken broth or water to desired consistency and adjust seasonings.  Makes 6-8 servings.
Genêt