Are you hungry for something rich and luscious and seafoody?  Good.  Because that's exactly what I'm cooking up for today's Happy Hour!  I'm making crawfish pies which consist of sweet crawfish meat smothered in a creamy, roux-based sauce with the perfect amount of Cajun Country kick.  Throughout the backroads of South Louisiana, you'll typically find these savory pies prepared as you would a large dessert pie.  The pie is sliced and served along with a green salad or some sort of stewed vegetable.  But they can also be made into individual portions using mini pastry shells like these.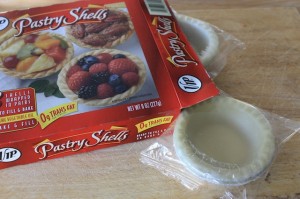 For years, I made my crawfish pies with those shells.  But I had a hard time convincing people to pop the whole thing out of the aluminum foil molds and bite into it.  More often than not, they would eat the crawfish filling out of the shell with a fork and trash that deliciously buttery, crawfish-cream-soaked crust.  It would really bum me out because they weren't experiencing the full pleasure of the dish.  The crust and the filling need to be eaten together.  That's all there is to it. So  I fixed the problem by scaling-down the size yet again.  I now make bite-size crawfish pies with the help of store-bought pie crusts.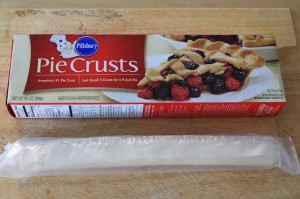 I cut the dough into circles the size of mini-muffins, press, fill and bake.  I end up with perfect finger food portions.  And nothing goes to waste!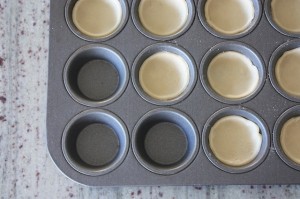 For the record, my recipe is closely aligned with Chef Paul Prudhomme's.  I've made a few adjustments over the years and I have never followed his lead on the crust.  His is, not surprising, homemade.  Mine is store-bought.  I'm sure his is over-the-top delicious, but I'm not going there.  Failed pie crusts put me in a bad mood.  And I'll leave it at that!
Okay.  Maybe I won't leave it at that.  I actually have one more thing to share with you today.  It's a recipe for a special Happy Hour drink called the "Mourning Pie Cocktail."  This drink was created by Chris Hannah of Arnaud's French 75 Bar in New Orleans as part of a fundraising effort by Tales of the Cocktail and Fleurty Girl to support one of the City's sweetest institutions, Hubig's Pies.  Last Friday, Hubig's–the maker of the City's one-of-a-kind, sugar-glazed, fried turnovers–was destroyed in a fire.  The City is now mourning the loss of this New Orleans institution and its pies, which have become a significant part of the City's edible history.  Thankfully, Hubig's is committed to rebuilding and the community has pulled together to help them.  So before imbibing, please raise a toast to Hubig's and their dreamy little New Orleans Style Pies.  If you'd like to show them some more love, you can do so by buying Hubig's merchandise from their website or from Fleurty Girl.
Until next week …
Bite-Size Crawfish Pies Recipe
Seasoning Mix
1 1/2 teaspoons salt
1/2 teaspoon dried thyme leaves
1/2 teaspoon dried basil leaves
1/4 teaspoon onion powder
1/4 teaspoon garlic powder
1/4 teaspoon file powder
1/4 teaspoon cayenne pepper
1/4 teaspoon white pepper
1/4 teaspoon black pepper
1 14.1-ounce package refrigerated pie crusts
1/4 cup canola oil
1/4 cup all purpose flour
1/2 cup chopped onions
1/2 cup chopped green bell peppers
1/2 cup thinly sliced green onions
1/4 cup chopped celery
2 garlic cloves, minced
1 cup heavy cream
1 pound frozen crawfish tails, thawed and drained (but not rinsed)
2 tablespoons unsalted butter
Preheat oven to 350 degrees.  In a small bowl, thoroughly combine seasoning mix; set aside.  In a large heavy skillet, preferably cast iron, make a roux by heating the oil over high heat.  Gradually add the flour, whisking carefully and vigorously after each addition until smooth.  Continue whisking until the roux is the color of peanut butter.  Add the onions, bell peppers, green onions and celery.  Cook, whisking constantly, until vegetables begin to soften, about 5 minutes.  Add garlic; cook an additional 2 minutes.  Remove from heat.  Place the cream in a medium saucepan and bring to a simmer over medium-high heat.  Gradually add roux mixture to cream, whisking after each addition until dissolved.  Reduce heat to medium-low and stir in seasoning mix and crawfish; cook until crawfish are heated through, about 5 minutes.  Add butter and stir until melted.  Remove pan from heat and set aside while you prepare the bite-size pie crusts.  For the crusts, roll out one pie dough round on a lightly floured work surface.  Using a 2-inch round cookie cutter, cut out 24 circles (you may need to collect and roll out the scraps for the last 2 or three).  Press the dough circles into the bottom of a mini-muffin pan.  Spoon approximately 2 teaspoons of the crawfish mixture into each pastry.  Repeat process with remaining ingredients.  Bake until filling is bubbly and crust is golden brown, 15-18 minutes.  Makes 48 Bite-Size Crawfish Pies.
Mourning Pie Cocktail Recipe
1 ounce Plymouth Gin
3/4 ounce pineapple juice
1/2 ounce Limoncello
1/2 ounce lemon juice
1/3 ounce Creme de Cacao
Shake, pour over ice.  Makes 1 cocktail.
Genêt