Better Cheddar is a coveted prepared food item in New Orleans sold at a couple of local grocery stores.  Langenstein's, one of the oldest family-run institutions in the City, has arguably the best with Robért's Fresh Market's version running a close second.  This addictively delicious spread is made with white cheddar cheese dotted with walnut pieces, green onions and garlic.  It's perfect served on crackers.  Yet, it also makes a delicious topping for baked potatoes.  And it's a great inspiration for other dishes such as "Better Cheddar Burgers"!  I crave it often, which is why I had to start making it myself.
While I haven't been able to get my hands on either grocer's ingredient list, I have been able to create a respectable riff.  My Better Cheddar is comprised of the obvious ingredients (as I've mentioned) and a cue or two from the "Better Than Better Cheddar" recipe printed in the Cooking Up a Storm
cookbook (an invaluable collection of old recipes that were "lost and found" following Hurricane Katrina).  I generally usually only sharp white cheddar when I make this spread.  But today I'm trying it with half white cheddar and half smoked Gouda (the "Better Than Better Cheddar" way).  I'll let you know how it turns out.
This evening I'm heading to a neighborhood pool party with the family. It's the perfect setting for a double dose of Better Cheddar.  The party's BYOB.  So, in addition to the cheese spread, I'll be packing an ice chest full of beer and flavored water (for the kids).  It's gonna be a fun Finger Food Friday evening!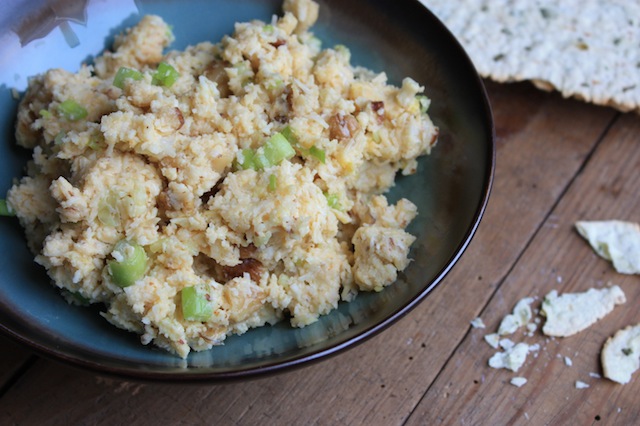 Until next week …
Better Cheddar Recipe
1/2 cup walnuts, chopped
1 pound sharp white cheddar cheese, shredded
3 green onions, finely chopped
1 garlic clove, minced
1/2 cup mayonnaise (or more if you like it creamier)
1 1/2 teaspoons Creole mustard
1 1/2 teaspoons yellow mustard
1/2 teaspoon Creole seasoning
1/2 teaspoon salt
Pinch of cayenne pepper
In a large saute pan over medium heat, lightly toast walnuts.  Stir occasionally to prevent from burning.  Remove from heat; allow to cool.  Transfer walnuts to a large bowl.  Add remaining ingredients; stir to combine.  Transfer dip to a serving bowl; refrigerate until ready to serve.  Serve with assorted crackers, chips or raw vegetables.  Makes about 2 cups.
Genêt