If you want to add some sizzle to your summertime side dishes, serve this Bourbon Creamed Corn at your next cookout.  Sure beats the canned "cream style sweet corn" we're all too familiar with.  It's also a pleasant change from the grilled or boiled corn on the cob that frequents most backyard bashes.
This recipe is my best attempt at recreating a restaurant side I ate many years ago.  I had to make it a couple of times before I got the cream-to-bourbon ratio just right.  But I think I've finally nailed it.  I also faced the challenge of balancing out the natural sweetness of the fresh corn–the last two batches I picked up were like candy!  Not that that's a bad thing.  It just makes it hard to keep a savory dish, well, savory!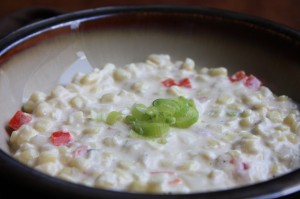 The jalapeno peppers and generous "pinches" of salt, black and cayenne peppers worked to my advantage on that end.  But even after all that tweaking, I still don't feel comfortable giving you specific measurements for the salt and black pepper.  That will ultimately depend on the sweetness of your batch of corn and your personal preference.  My best advice is to taste the dish every step of the way and then taste it again before you serve it.  And one more thing … cutting the corn off the cob and making sure there's no silk or cob pieces mixed in with the kernels is a tedious, but necessary, job when cooking with fresh corn.  It's well worth the effort, though, especially when you realize that there's no substitute for the vibrant summer flavor it brings to this dish.
Bourbon Creamed Corn Recipe
8-10 ears fresh corn (preferably white)
4 tablespoons butter
1/2 cup chopped red bell pepper
1/2 cup chopped onion
2 garlic cloves , minced
1 jalapeno pepper, seeded and minced
2 cups heavy cream
1 8-ounce package 1/3 less-fat cream cheese
1/2 cup bourbon
1/8 teaspoon cayenne pepper
Salt and black pepper to taste
Remove the husks and silk from corn and cut off the kernels.  After the cob has been stripped, use the back of a knife to scrape any remaining pulp and "corn milk" off the cob (this adds additional flavor to the finished dish).  Set aside.  In a large saucepan over medium-high heat, melt butter.  Add bell peppers, onions, garlic and jalapeno peppers; saute until tender, 3-5 minutes.  Reduce heat to medium.  Add cream, cream cheese, bourbon, corn and cayenne pepper; cook, stirring occasionally, until sauce has thickened, 10-15 minutes.  Season to taste with salt and black pepper.  Serve warm.  Serves 8-10.
Genêt