The week before last I made my monthly run to BJ's, our mammoth wholesale club, where I stumbled upon these adorable gourmet baby carrots.  I had to have them.  They were so cute.  They were the real McCoy too–as in true baby carrots.  Not those mature, often tasteless "baby-cut" imposters they sell in damp plastic bags at the grocery store.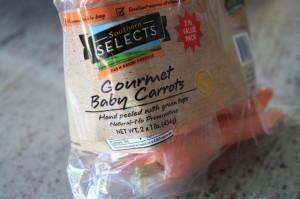 As soon as I got home and before I even unloaded the car, I grabbed the two pound bag of carrots and ran inside to get them going.  Within a few seconds, I had those babies perfectly aligned on a large baking sheet with nothing more than a drizzle of olive oil and a dash of salt, pepper and cumin.  I slid the pan into a hot oven.  And within mere minutes, I had a lovely pan of additively sweet (candy-like), slightly smoky, crispy/tender roasted carrots calling my name.  I could have polished off the entire tray.  But I resisted knowing full well my oldest daughter Chandler would appreciate them just as much as I did.  That she did!
Cumin Roasted Carrots Recipe
1 pound fresh Gourmet Baby Carrots (or 1 pound regular carrots, peeled and trimmed)
3 tablespoons extra virgin olive oil
1/2 teaspoon ground cumin
Kosher salt and freshly ground black pepper to taste
Preheat oven to 400 degrees.  Lightly grease a large rimmed baking sheet with cooking spray.  Place carrots on baking sheet and drizzle with olive oil.  Season with cumin and salt and pepper to taste; toss to coat.  Roast in the oven until browned and tender, about 30 minutes.  Serve warm.  Makes 4 servings.
Genêt