Shoepeg Corn Dip is a quick-fix, crowd-pleasing finger food perfect for Fridays or any other day of the week.  Since my parents and in-laws are heading into town today to attend my youngest daughter's First Communion and celebrate Mother's Day, I'm doubling the recipe so we can graze on it throughout the weekend.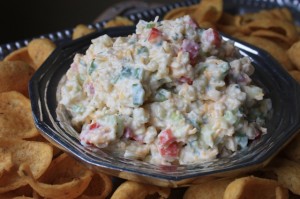 Shoepeg corn is nothing more than those small, narrow, white kernels of corn.  You know, the ones that look like baby teeth?  They hold up well in dips and salsas thanks to their thin yet firm skin.  If you're considering replacing the white corn with yellow in this recipe, fugetaboutit!  Yellow corn can get mushy and the skins always get caught in your teeth.  Stick with the tender white!  Also, serve the dip with Frito Lay Scoops.  Over the years, I've eaten this corn dip with many different types of chips and crackers.  The scoops, by far, have the best flavor.  Maybe it's the corn-on-corn thing.  Those chips also seem to have just the right amount of salt.  Which leads me to one other point.  Before seasoning the dip, taste it with a corn chip instead of a fork or spoon.  That's the best way to judge how much, if any, additional salt you'll need to add.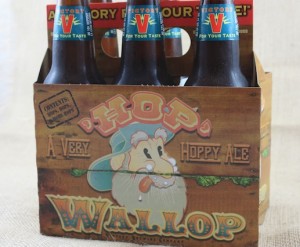 Now to beverages.  This evening we're going to have a nice family Happy Hour.  We'll enjoy the usual suspects and one newly discovered, very hoppy ale, Hop Wallop American Double/Imperial IPA (Victory Brewing Company, Dowingtown, Pennsylvania).  I picked this beer because the packaging is whimsical and cute.  Fortunately, it tastes good too!
Well, I've got lots to do before my company arrives.  So until next week …
Shoepeg Corn Dip Recipe
2 12-ounce cans white shoepeg corn, drained
1 cup thinly sliced green onions
1 large red bell pepper, seeded and finely chopped
1 jalapeno pepper, seeded and finely chopped
1 cup grated sharp cheddar cheese
1/4 cup grated Parmesan cheese
1 cup sour cream
1/4 cup mayonnaise
1 teaspoon parsley flakes
Salt and pepper
Fritos Scoops corn chips, for serving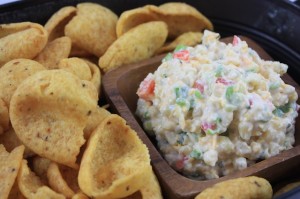 In a large bowl, combine corn and next 8 ingredients (through parsley flakes). Season with salt and pepper. Chill at least 1 hour before serving. Serve with Fritos Scoops. Makes about 4 cups
Genêt