Things have been crazy around here lately with end-of-school activities (field trips, field days, musical performances, graduations, parties and so on) and it's during these hectic times that I turn to my stash of shortcut supper ideas.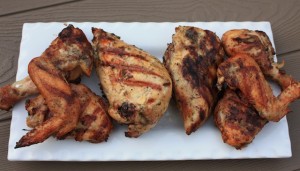 These recipes contain at least one premade or premixed grocery store find and a short list of ingredients. Grilled Ranch Chicken is one of them.  I pull it together with nothing more than a packet of Hidden Valley® Ranch® Dips Mix, olive oil and a whole chicken that's been cut up.  If you don't like handling a whole chicken, you could try and find a pre-cut one at the grocery store (although the stores in my area don't seem to package them that way anymore).  You could also ask your butcher to cut the chicken up for you or simply buy a four to five pound mix of your favorite bone-in chicken pieces … because we all know that cooking the bird on the bone adds tons of flavor and helps keep the chicken from drying out!
Grilled Ranch Chicken Recipe
1 4-5 pound chicken, cut into 8 serving pieces with skin intact
1 1-ounce packet Hidden Valley® Ranch® Dips Mix
1/2 cup extra virgin olive oil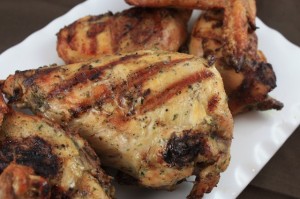 Remove and discard excess fat from chicken, including the thin layer of fat found on the underside of the skin (this can be removed easily by scraping the skin with a sharp knife).  Place chicken pieces in a large resealable plastic bag.  Set aside.  In a small bowl, combine dips mix and olive oil.  Pour over chicken.  Seal bag; gently turn to evenly coat chicken with marinade.  Marinate for a minimum of 15 minutes at room temperature or overnight in the refrigerator.  If marinating overnight, bring chicken to room temperature before grilling.
Prepare grill for direct cooking.  Remove chicken from marinade and place on hot grill.  Discard marinade.  Close lid and cook over direct, medium-high heat until done, flipping occasionally, about 35-45 minutes (or until juices run clear when pierced with a knife).  Remove chicken from grill; tent with foil and allow to rest 10 minutes before serving.  Makes 4-6 servings.
Genêt