Back in February, I introduced you to my basic sliders.  Those are the ones I throw together at least twice a month for fun dinners and last minute gatherings.  The kids love them.  Their friends love them.  My friends love them.  Everybody loves them.  But here's the downside.  Those sliders are such a bit hit, that I get eye rolling and other unwelcomed gestures from my little "children-of-the-corn" (that's a term of endearment around here) anytime I suggest creating a new recipe.  I've tried to convince my darlings that I'm not looking to replace "their" sliders.  I'm simply wanting to expand their slider horizons … introduce them to other yummy flavors that can be sandwiched between those cute little buns (not theirs, the burgers)!  But I've had no luck.  It hadn't gotten so bad, in fact, that my once reliable "but I need to try a new recipe for the website" pitch didn't even work.  So I did what any good mother with a food blog would do.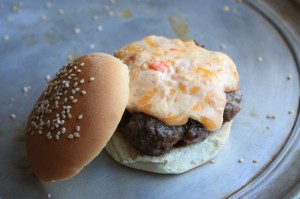 I made two trays of sliders:  the basics for the "corn camp" and a big stack of smoky, cheesy, slightly spicy, can't-eat-just-one, Crescent City-inspired sliders for me and the hubby.  I also threw together an ooey-gooey triple cheese topping to finish ours off.  I have to say, they came out really good.  And although the kids didn't ask for a taste, at the end of the evening they were wishing they had.  So tonight, I'm making another big batch for everyone to enjoy.
For this recipe, it's worth tracking down a really good quality andouille sausage.  If you're in the New Orleans area, Cochon Butcher has some of the best links in town.  Unfortunately, they don't ship.  If you're in the Greater Atlanta Area, like me, take a ride to my new friend Larry Herbert's smokehouse tucked inside The Corner Butcher Shop in Canton, Georgia.  Larry is a Brother Martin grad (an all-boys Catholic high school in the Gentilly area of New Orleans where I grew up) who can smoke a pig like nobody's business and understands the importance of stocking alligator meat and frog legs in this part of the country.  He ships.  Another reliable source that ships is Jacob's in LaPlace, Louisiana, better known as the Andouille Capital of the World!
I can't eat a burger without a brew and today's pick comes compliments of a special friend from Long Island.  She recently brought me a 6-pack of Hoptical Illusion (Blue Point Brewing Company, Patchogue, New York).  It was part of her personal stash from one of her last visits back home.  I have such wonderful friends!
Until next week …
Crescent City Sliders with Triple Cheese Topping Recipe
1 pound andouille smoked sausage
1 pound ground chuck
1 small bunch of green onions, chopped
1 garlic clove, minced
2 tablespoons Worcestershire sauce
1 teaspoon salt
1/4 teaspoon black pepper
1 1/2 cups Triple Cheese Topping, see recipe
4 tablespoons butter, softened
1 12-pack slider buns
Prepare grill for direct cooking over medium-high heat. Remove andouille from casing and place in a food processor. Pulse to the consistency of ground beef; transfer to a large bowl. Add ground chuck, green onions, garlic, Worcestershire sauce, salt and pepper; combine with your hands.  Form into 12 even-sized patties.  Make a deep thumbprint in the middle of each patty (this will help keep them from shrinking while they cook).  Place burgers on grill and close cover.  Cook until nice grill marks appear, about 4-5 minutes:  Flip burgers; continue cooking until second side forms nice grill marks, another 4-5 minutes.  During the last minute of cooking, mound 1 heaping teaspoon of the Triple Cheese Topping on each burger.  Cook until cheese is slightly melted (keep an eye on it as this happens quickly). Just before burgers are done cooking, spread butter on both sides of slider buns and place on top shelf of grill until lightly toasted.  Place a burger between each bun and serve immediately.  Makes 12 sliders.
Triple Cheese Topping Recipe
4-ounces cream cheese, softened
1/2 cup grated sharp cheddar cheese
1/2 cup grated Pepper Jack cheese
1/4 cup chopped roasted red peppers
1/4 cup grated onion
1 teaspoon Worcestershire sauce
1/4 teaspoon salt
1/4 teaspoon garlic powder
1/8 teaspoon black pepper
Pinch of cayenne pepper
Combine all ingredients in a medium bowl.  Cover and refrigerate until ready to use.  Makes about 1 1/2 cups.
Genêt