Roasted fingerlings are all the rage in my house right now.  My whole gang loves munching on these odd-shaped potatoes.  They have thin skins and are perfectly portioned too.  So nothing goes to waste (every mom has to love that).  I pop them in a hot oven for twenty-minutes and boom!  Tiny tender tubers.  I usually serve them as a snack straight out of the oven.  Although tonight, I'm preparing a robust Romesco Sauce to dip them in.  I thought that would make a great dish for a Finger Food Friday fete!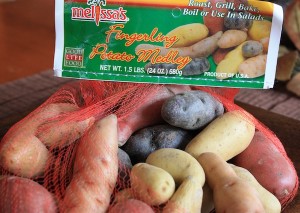 Romesco sauce is a relative newcomer to my recipe collection but one that I've already found countless uses for.  This classic Spanish sauce is as versatile as a pesto–probably more so since it's not as rich.  The ingredient base is made up of Mediterranean goodies like nuts, vegetables and olive oil, but those are not consistent among all the recipes I've come across.  Some versions call for almonds while others list hazelnuts.  Dried peppers are included in a few. Diced tomatoes omitted from others.  It's obvious this sauce is open to interpretation and that "add a little of this, substitute some of that" mentality lends itself to romesco's versatility.  It's wonderful served alongside blanched or grilled veggies or ladled over grilled or broiled seafood.  Heck, I even like it smeared on toasted bread!
Since today's finger food is on the filling side, I'm passing on beer this evening.  I opting instead for a glass or two of white wine and it will be whatever I have chilling in the basement fridge … Mondavi Willow Springs Chardonnay.  Sounds nice and refreshing.  The hubby?  He's sticking to Miller Lite.  After all, "it tastes great and it's less filling!"
Until next week, …
Roasted Fingerling Potato Recipe
1.5 pounds fingerling potatoes
2 tablespoons extra virgin olive oil
1 teaspoon parsley flakes
1 teaspoon Kosher salt
1/2 teaspoon garlic powder
Preheat oven to 375 degrees.  Place potatoes on a lightly greased baking pan.  Pour olive oil over potatoes; toss to coat.  Season with parsley flakes, salt and garlic powder; stir to combine.  Bake, uncovered, until potatoes are fork tender, about 20 minutes.  Serve hot with your favorite dipping sauce.  Serves 4.
Romesco Sauce Recipe
1/2 cup extra virgin olive oil, divided
1 3-inch slice crusty bread, cubed (a baguette works well)
1/2 cup sliced almonds
3 large garlic cloves, minced
1 14.5-ounce can fire roasted diced tomatoes, drained
1 8-ounce jar roasted sweet red bell peppers, drained
2 tablespoons red wine vinegar
1 tablespoon paprika
1/4 teaspoon cayenne pepper
Salt and black pepper to taste
Place 3 tablespoons olive oil in a large skillet over medium heat.  Add bread, almonds and garlic; cook, stirring constantly, until ingredients are lightly toasted, 3-5 minutes (don't let garlic burn).  Remove pan from heat.  Transfer bread mixture to a food processor or blender.  Add tomatoes, peppers, vinegar, paprika and cayenne pepper; process until smooth.  While machine is running, gradually add reserved 1/3 cup olive oil.  Season to taste with salt and black pepper.  The romesco sauce can be refrigerated for up to 1 week or frozen for up to 3 months.  Makes about 2 1/2 cups.
Genêt