Globe artichokes get a lot of table time in the Crescent City thanks to the French settlers who brought them to Louisiana from the Mediterranean back in the 1800s and the Creole-Italians (among many others) who knew how to cook them.  Interestingly, it's been said that Louisiana was home to the first commercial artichokes fields.  They flourished in and around various parts of South Louisiana including a small patch of land in New Orleans currently known as the Warehouse District.  In the early 1940s, the crop mysteriously disappeared from these parts and today nearly 100% of all the country's globe artichokes come from California.  Yet, our City's love for the artichoke has not waned.  We continue to stuff, braise, boil (try adding several to your next pot of crawfish), smash, stir, fry and even grill them.  I must confess that a good old New Orleans-style Stuffed Artichoke is my favorite.  But these smoky thistles come in a close second thanks to their thick layer of gooey provolone and garlicky sun dried tomato pesto.
When choosing fresh artichokes for this or any other recipe, look for ones that are a deep olive green, have tightly closed leaves and are free of blemishes and brown spots.  A good, fresh and well-hydrated whole artichoke will also squeak when you squeeze it. For this recipe, pre-boiling is a must. The goal is to get the artichokes as tender as possible without them falling apart on the grill.  I've included my best time estimates in the recipe.  But keep in mind that every stove, pot (and cook) is different.  The best way to check them is to pull off a large outer leaf. If it falls off with a gently tug, it's done. The artichokes can be boiled a day or two in advance, cooled completely and refrigerated until it's time to grill.
When it comes to matching this finger food with the perfect drink, let me say that my taste has changed quite a bit over the last year. It used to be that I'd never drink anything but Conundrum with artichokes. As notoriously difficult as artichokes are to pair with wine, I found that combo to work. However, I've done enough craft beer drinking in the last 12 months to realize that Saisons, pale ales and IPAs taste even better with this unique veggie. The connection is the citrus and spice elements of those brews. Since we commonly season our artichokes with those two things, it makes sense that beers possessing those same qualities work.
Until next week …
Grilled Artichokes with Provolone and Sun Dried Tomato Pesto Sauce
Juice of 1 lemon
3 large artichokes
1/4 cup plus 1 tablespoon extra virgin olive oil, divided
3 garlic cloves, minced
1/2 cup sun dried tomato pesto (I prefer Classico)
1 tablespoon chopped fresh basil (or 1 teaspoon dried basil leaves)
3 slices provolone cheese, cut into fourths
1/4 cup grated Parmesan cheese
Salt and fresh ground black pepper to taste
Fill a large saucepan with water; add lemon juice.  Generously season water with salt; set aside.  Using a sharp knife, slice off the top one-fourth of each artichoke.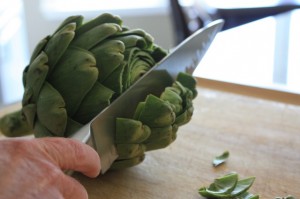 Trim thorns from remaining leaves with kitchen shears.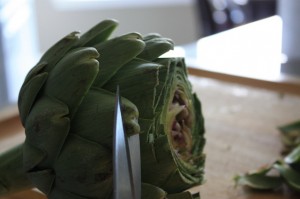 Snap off the small, tough outer leaves closest to the stem, peel stem with a vegetable peeler and cut off the exposed end of the stem.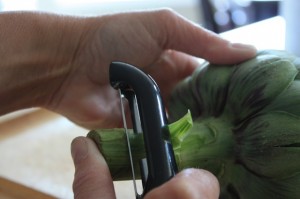 Halve the artichokes lengthwise.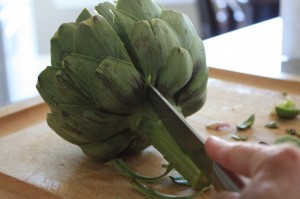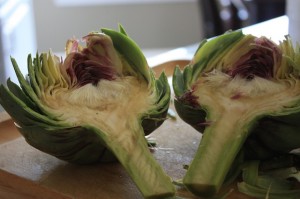 With a small knife, cut out fuzzy choke and prickly leaves (the small ones with purple tips) located in the center of each half.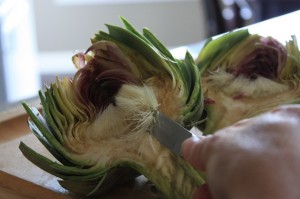 If artichokes are large, cut halves into two pieces.  Drop artichokes into saucepan, cover and bring to a boil.  Once water reaches a boil, partially remove lid, reduce heat to simmer and cook artichokes for 8 minutes.  Remove pan from heat, cover completely and let artichokes sit in hot liquid until tender (large leaves will give to a gentle tug and heart can be easily pierced with a fork), 10 additional minutes; drain and set aside.  In a medium saucepan, heat oil over medium heat.  Add garlic and cook, stirring frequently, until tender, 3-5 minutes. Stir in sun dried tomato pesto; cook an additional 2 minutes.  Remove pan from heat and stir in basil.  Season to taste with salt and pepper.
Prepare grill for direct cooking over medium-high heat.  Brush artichokes with reserved tablespoon of olive oil.  Place artichokes, cut side down on open grill.  Cook until browned, about 4 minutes.  Flip artichokes over and place 1 quarter slice of provolone cheese inside each cavity; grill an additional 4 minutes.  Transfer artichokes to a serving platter, spoon even amounts of sun dried tomato pesto sauce on each and sprinkle top with Parmesan cheese.  To eat, pull off the leaves one at a time and use each leaf to scoop up the sun dried tomato pesto sauce.  Pull the bottom of the leaf through your teeth to scrape off the soft, pulpy meat along with some sauce; discard the remainder of the leaf.  Some of the small, more tender leaves can be eaten whole.  The center, or heart, of the artichoke is one of the most desirable parts and is completely edible.  Makes 8 appetizer servings.
Genêt