It's been said by the master of chargrilled oysters himself, Mr. Tommy Cvitanovich of Drago's Seafood Restaurant in Metairie, that this is the simplest dish to cook at home but the most difficult to duplicate.  Well, from an ingredient standpoint I get that since Drago's has never published its exact recipe (although there are apparently some very close versions floating around). And that's understood. But I have to say, once you nail down the cooking method I think it's pretty darn easy to recreate those sizzling-hot, sexy restaurant oysters at home. Here's how I make them.
I start with oysters on the half shell and the dynamic duo of butter and garlic.  I've read that Drago's uses a blend of butter and margarine, the precise amounts of which are closely guarded.  Okay by me since I don't use margarine.  Good quality butter is what I bank on.  No budget brands here because they contain too much water.  From there, I brighten things up with Pickapeppa Sauce (that dark brown sauce everyone pours over cream cheese) and lemon juice and round everything out with salt and pepper.  I slather large amounts of the softened butter mixture over each oyster, set them directly on the grill and cook away.  As the butter melts, some of it will undoubtedly spill onto the grill creating flare-ups–it's a calculated move that gives the oysters that can't-each-just-one, signature smoky flavor.  Once they're done, I crown them with cheese and serve.
If you'd like to try this recipe at home but can't get your hands on oysters in the shell, you can cook them in disposable muffin tins.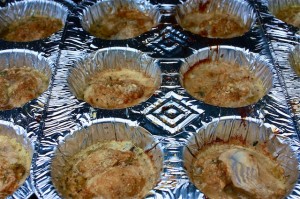 I resorted to this method a few times while working on this recipe.  The only thing you'll need to do to help the oysters along is encourage an angry flame by carefully pouring a small amount of melted butter over the grill while the oysters cook. The oysters will be a little less smoky and the butter mixture a little less brown, but they'll still be delightful. Oh, and if by chance you end up with extra "oyster butter," melt it, brush it on slices of fresh French bread and grill the bread to serve along with the oysters.  Or save it to use on steaks, chicken, vegetables or other types of seafood. Happy Shucking!
Chargrilled Oysters Recipe
1 pound (4 sticks) good quality unsalted butter, softened
1/4 cup minced garlic
1 tablespoon plus 1 teaspoon Pickapeppa Sauce
1 teaspoon fresh lemon juice
1 teaspoon kosher salt
1 teaspoon black pepper
1/4 teaspoon cayenne pepper
3 dozen large freshly shucked oysters on the half shell
3/4 cup grated Parmesan and Romano cheese blend
1/4 cup chopped fresh parsley
Grilled French bread, for serving
Preheat grill for direct cooking over high heat. In a medium bowl, combine softened butter, garlic, Pickapeppa Sauce, lemon juice, salt and peppers. Spread a generous amount of the softened butter mixture over each oyster on the half shell; there should be enough so when the butter melts some of it will overflow into the fire and flame up. Place filled oyster shells directly over the hottest part of the grill. Cook until oysters puff up and their edges curl and the garlic butter begins to brown, about 3-5 minutes. Top each oyster with a teaspoon of the cheese and a sprinkle of parsley. Serve oysters sizzling hot in their shells with plenty of grilled French bread for dipping.  Makes 4-6 appetizer servings.
Genêt