I used to think Houston's had the best spinach dip.  I liked the saucy spinach with the salsa and sour cream toppings far better than the chunky, cheesy kind usually found on restaurant menus.  Then, back in 2008, I met another spinach dip worthy of my affection.  A creamier, more flavorful one.  Hands down, it was the best spinach dip I had ever tasted.  And well, I haven't thought much about Houston's Chicago-Style version since.  My girlfriend Brenda introduced me to it at one of our sadly-long-gone neighborhood Happy Hours.  She likes to entertain as much as I do so we're always talking food and swapping interesting recipes.  This spinach, or should I say spinach and artichoke, dip strays from the norm with its cream of celery soup and Swiss cheese. Surprisingly, they give the dip a wonderful flavor and add to its creamy consistency.  Now to achieve that super-creamy consistency that makes this finger food so perfect, it's important to process the spinach, cream cheese and soup together–nothing a blender or food processor can't handle.  The first time I made this recipe I was in a rush so I skipped that step.  I regretted it.  The spinach was stringy and the cream cheese clumpy.  Also, in case Brenda reads this post (Hey, Brenda!) I should point out that her original recipe called for a stick of butter.  Maybe I was doing something wrong the first time around, but most of that butter ended up in puddles on top of the dip after it was baked.  I've since cut the amount in half without sacrificing any flavor.  I also throw a pinch of cayenne in mine.  Just because I like cayenne!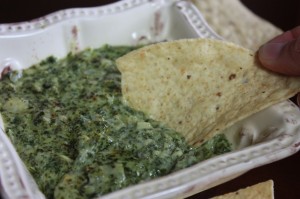 Since this recipe makes so much, I'm sure I'll have plenty left over for the big game tomorrow between the Saints and the 49ers.  And since I'm in a pre-game mood this evening, I'll be reaching for a cold Andygator to go along with my dip and salty chips.  Andygator can be deceiving with its golden color, fruity aroma and slightly sweet flavor.  But don't be fooled.  This is Abita Brewing Company's "high-gravity" beer, which means it has more alcohol than most.  So drink responsibly (that's the mother in me talking). Tomorrow, I'll be enjoying second helpings with Andygator's cousin, Abita Turbo Dog. Turbo Dog is my ceremonial Saints beer. Can't watch a game without it!
Until next week, Geaux Saints!!!
Creamy Spinach and Artichoke Dip
2 10-ounce boxes frozen, chopped spinach
1 8-ounce package cream cheese, softened
1 10 3/4-ounce can cream of celery soup
4 tablespoons unsalted butter
1 small onion, finely chopped
3 garlic cloves, minced
1 14-ounce can artichoke hearts, drained and chopped
1 1/2 cups grated Swiss cheese
1/2 cup grated Parmesan cheese
Pinch of cayenne pepper
Salt and black pepper to taste
Preheat oven to 350 degrees.  Cook spinach according to package directions; drain.  Transfer spinach to a blender or food processor.  Add cream cheese and soup; process until smooth.  In a large skillet over medium-high heat, melt butter.  Add onions and garlic; cook until tender, 3-5 minutes.  Remove from heat and stir in spinach mixture, artichokes, cheeses and cayenne pepper.  Add salt and black pepper to taste.  Pour dip into a lightly greased 13x9x2-inch baking dish.  Bake until hot and bubbly, 25-30 minutes.  Serve with assorted chips and crackers.  For easy entertaining, the dip can be assembled a day ahead.  Cover and refrigerate and then bake just before serving.  Serves 8-10.
Genêt