I'm mixing things up today.  Instead of focusing on the food, I'm bringing the adult beverage–the item that rounds out every Finger Food Friday–front and center.  But first, have I ever told you that I used to love wine?  Yes.  Believe it or not, this craft-beer-loving hophead was once a fan of wine–especially big California reds.  Then I had kids and I couldn't drink it anymore.  My tastes just changed.  Don't know why.  And it doesn't make any sense, especially considering most women drink more wine after they have kids.  Anyway, over the years I've tried to reacquire a taste for it but it's never been the same.  The biggest disappointment is when I convince myself that a pricier bottle will be more appealing and I end up wasting half the bottle.  This happened just last week as a matter of fact.  I bought a bottle of Cabernet that I'm sure many of you would have loved.  I, on the other hand, struggled to finish one glass.  Fortunately, while I was wincing and flinching my way through that pour I was also flipping through a Cooking Light magazine that included a recipe for a merlot granita.  Let's just say I had a aha moment.  I rushed to my computer to Google variations on that "theme," pulled together a quick recipe (based predominately on the one in the magazine) and proudly transformed my undrinkable vino and a couple of baskets of fresh berries into this delightfully refreshing boozy slushy.  It's not overly boozy.  Just boozy enough to let you know what's in it.  And the hint of cinnamon and citrus?  It's spot-on.
A great way to present this red wine granita is with one or more of my cheesy recipes.  Think of it as a quirky Raised on a Roux twist on a wine and cheese pairing.  Here are some Finger Food Friday favorites to consider …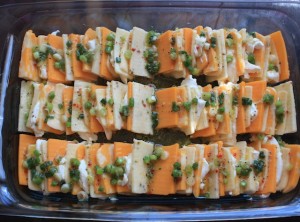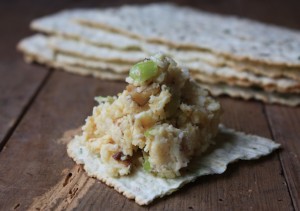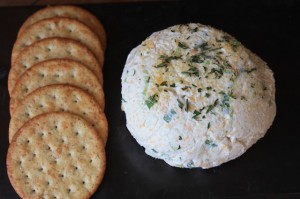 Until next week …
Mixed Berry and Cabernet Granita Recipe
3 cups fresh strawberries
1 cup fresh blackberries
3/4 cup water
1/2 cup sugar
1 cup Cabernet Sauvignon
1 tablespoon fresh lemon juice
1 cinnamon stick
In a medium saucepan over medium heat, combine all ingredients and bring to a boil.  Reduce heat to a simmer and cook, stirring occasionally, for 10 minutes.  Remove from heat and let stand for at least 15 minutes.  Strain mixture through a colander over an 9×13-inch glass baking dish (do not press excess juice from berries).  Reserve berries for another use.  Cover dish with plastic wrap and place in the freezer until partially frozen, about 2 hours.  Remove mixture from freezer and rake with a fork from the edges to the center of the pan.  Return to the freezer and repeat process every hour until completely frozen, about 3 additional hours.  When ready to serve, fluff granita with a fork and spoon into chilled cocktail glasses or ramekins.  Makes 4-6 servings.
Genêt