A couple of years back, I started a fun little tradition with the hubby and our three children called "Fry Nights."  Fry Nights are dinners composed of an entire meal that is … are you sitting down?  Deep fried.  That's right.  A plate full of delectably crispy and crunchy foods that have been totally immersed in a "hot frying medium."  Oh yeah!  About three or four times a year, this party of five throws caution to the wind, our waistlines and our heart health by eating a supper prepared entirely in a vat of peanut oil.  Best part is, there's no shame in our game.  Nope.  While deep frying an entire meal may not be fashionable for some in today's extremely health conscious world, it's an important part of this Deep South family's identity.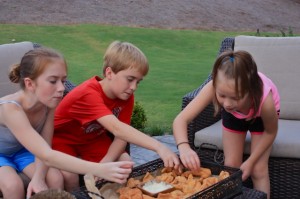 I would be frowned upon by my elders (God rest their souls) if I did not teach my kids how to properly fry food–especially seafood–and enjoy it in the company of others.  Hands down, our Fry Nights constitute the "happiest" meals I make around here.  Everyone loves pitching in with the prep work and hanging out while the food cooks.  And when it's all done, we all look forward to indulging in a large, overflowing platter of hot-to-touch goodies–fingers first.  No plates or utensils required! For those of you contemplating this joyous occasion on your own turf, here's the scoop:
Frying outside is more fun and so much easier in terms of cleanup than frying inside.  Invest is a quality countertop deep fryer than you can plug in outside or a large, outdoor propane deep-fryer.  (The outdoor propane ones like ours shown in the picture below are a dime a dozen in New Orleans.  If you're not local, you can order them online from places like

Bayou Classic

or

King Kooker

.);
Prepare your food in advance (aside from catfish, shrimp, oysters, calamari, chicken wings, French fries, onion rings, tater tots, hush puppies, sliced jalapeno peppers, thinly sliced lemons, mushrooms, okra, cauliflower, broccoli, green tomatoes, mozzarella sticks,

Canned Biscuit Dough Donuts

and beignets all make wonderful Fry Night finger food).  Slice, dice, marinate and mix everything ahead of time.  Arrange each food item with its marinade and/or batter in a separate ziploc bag for easy handling and fast cleanup;
Get the oil hot (start out around 375 degrees) and keep it hot (around 365 degrees) by frying the food in small batches. This will seal the flavors in and keep the grease out;
Have a large platter lined with a stack of paper towels ready for draining the fried food;
Set the mood with some funky blues or jazz music;
Load up an ice chest full of cold beverages. May I suggest Sparkling ICE Spring Water for the kids (mine like the lemonade and black raspberry flavors best) and light indulgences ideal for summer quaffing for the adults (Pinot Grigios, Syrahs and Summer Ales)?
Set up a help-yourself-station with plenty of napkins, Creole Tartar Sauce, Cocktail Sauce, ketchup, salt and pepper and a large garbage can so no one has to leave the patio to tend to incidentals;
Eat till your heart's content; and
Have fun!
Until next week …
Crispy Catfish Nuggets with Creole Tartar Sauce Recipe
1 12-ounce beer
1 tablespoon yellow mustard
3 pounds skinless catfish fillets, sliced into 3-inch pieces
1 cup Zatarain's Seasoned Fish-Fri
1/3 cup all purpose flour
1/4 cup Zatarain's Crispy Southern Seasoned Fish-Fri
1 teaspoon salt
1/4 teaspoon black pepper
Peanut or canola oil, for frying
Creole Tartar Sauce, for dipping (see recipe)
Pour beer into a large bowl; whisk in yellow mustard.  Pour beer mixture into a large resealable plastic bag; add catfish.  Seal and marinate in the refrigerate for up to 3 hours.  Place oil in a large skillet or electric fryer and heat to 375 degrees.  Meanwhile in a separate large resealable plastic bag, combine the Fish-Fri and next four ingredients (through black pepper).  Working in batches, remove a handful of catfish nuggets from beer mixture and add to Fish-Fri mixture.  Seal bag and shake until evenly coat.  Dust off excess batter and carefully add catfish to hot oil.  Fry until golden brown on all sides and catfish floats to the top of the fryer, 5-7 minutes.  Drain on a wire rack or stack of paper towels.  Serve warm with Creole Tartar Sauce or your favorite dipping sauce.  Makes 6-8 servings.
Creole Tartar Sauce Recipe
1/2 cup mayonnaise
2 tablespoons dill pickle relish
1 tablespoons plus 1 teaspoon fresh lemon juice
3 teaspoons Creole mustard
1 tablespoon thinly sliced green onions
1 tablespoon chopped fresh parsley
1/4 teaspoon Creole seasoning
1/8 teaspoon onion powder
1/8 teaspoon garlic powder
1/8 teaspoon salt
1/8 teaspoon black pepper
In a medium bowl, combine all the ingredients.  Cover and refrigerate until ready to use.  Makes about 1 1/2 cups.
Genêt