I have a new addiction–chipotle peppers in adobo sauce.  Their smoky-spiciness has me hooked.  And lately I've been adding them to just about everything.  Of course, you'd never know that because until now I haven't posted any of those recipes.  It's just that one idea has lead to another and then another.  And when I'm cranking up the creativity in the kitchen, the recipe writing takes a back seat.  Not to worry, though.  I have all of the fiery hot details jotted down somewhere and I will get each one posted.  Eventually!
The one recipe I have finished is for my Chipotle Roasted Tilapia. If you're ready to succumb to the addictive pleasures of chipotle peppers in adobo and get dinner on the table in less than 30 minutes, then this recipe is for you!  This is trumped-up tilapia.  Creamy, cheesy, smoky and spicy.  I frequently serve it with canned black beans (rinsed and drained) and rice pilaf to sop up all the extra sauce.  I've also roasted grouper in the same manner.  Was just as pleased with the results.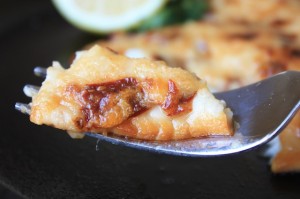 The chipotles in adobo carry a lot heat. The level of heat varies from can to can and pepper to pepper (the smaller ones tend to be spicier). But on average, they hit the tongue much harder than fresh jalapenos and the fire seems to linger longer.  Maybe it's the adobo?  I don't know.  Add a little at first and taste for heat as you go.  My husband and I like the kick of two chopped chipotles in this recipe. My girls tend to think that's a little too spicy, but they're only 11 and 8.  My 9-year-old son prefers to eat tilapia (and every other type of food) with ketchup only. So his opinion doesn't count.
One small, seven-ounce can of chipotles in adobo sauce contains close to 20 peppers–way more then you'll need for this recipe.  Store the extras in an airtight container in the fridge for several weeks.  Or freeze what's left in small batches by pureeing the peppers and adobo sauce together in a food processor and spooning the puree into an ice tray lined with plastic wrap.  Once frozen, pop out the pureed "chipotle cubes" and store them in a resealable freezer bag.  That way, you'll have them on hand when all of my other chipotle recipes get posted!
Chipotle Roasted Tilapia Recipe
4 8-ounce tilapia fillets
Salt and pepper to taste
1-2 chipotle peppers in adobo sauce, finely chopped
1 teaspoon adobo sauce
1/2 cup mayonnaise (I use Hellmann's reduced fat with olive oil)
1/4 cup shredded Mozzarella cheese
1/4 cup grated Parmesan cheese
1 garlic clove, minced
1 teaspoon garlic powder
Preheat oven to 425 degrees.  Season fish fillets on both sides with salt and pepper.  Place fillets in a single layer in a lightly greased 13x9x2 inch baking dish.  Set aside.  In a small bowl, combine chipotle peppers, adobo sauce, mayonnaise, mozzarella and  Parmesan cheeses, garlic and garlic powder.  Spread the chipotle mixture evenly over the fish fillets.  Bake, uncovered, until fish flakes easily with a fork and sauce is bubbly and brown on top, 15-20 minutes (depending on the thickness of the fish).  Makes 4 servings.
Genêt