Geez!  I'm just realizing I haven't posted anything new since last Friday.  This crazy week just got away from me.  The kids are on Spring Break, so I've been trying to do fun things with them in between finishing a couple of big "mommy & daddy projects" that unfortunately spilled over from last week.  Those projects have also kept me away from the computer and out of the kitchen.  But I'm finally catching my breath.  Just in time for Finger Food Friday and the recipe du jour, Marinated Cheese.
I love, love, love this picking food!  After all, cheese is my chocolate.  My indulgence.  My dessert.  My splurge food.  My I-don't-care-how-many-calories-it-has-I'm-gonna-eat-lots-of-it-anyway food.  And this dish can be thrown together with all my favorites.  My ingredient list calls for five specific cheeses, but only for the sake of writing a cohesive recipe.  Don't be tied to those selections.  Maybe what I should have done was list a hard cheese, a semisoft cheese, a crumbly cheese and a flavored cheese.  But even that wouldn't have covered all the bases.  My point is … mix it up.  Every time I make this finger food I use a different combination of cheeses based on what's in the fridge, what's on sale and my mood.  Sharp cheddar and cream cheese are generally my constants because I always seem to have them on hand.   Pepper Jack, goat cheese and fresh mozzarella balls marinate nicely.  As do smoked Gouda and creamy Havarti.  I also occasionally use flavored cheeses like horseradish cheddar, cranberry-pecan goat cheese or Buffalo Wing Monterey Jack.  I've made this dish with as little as three different cheeses and as many as eight.  All you need to do is incorporate varying tastes, textures and colors.  That way, every bite will be full of rich, smooth, nutty, buttery, tangy, creamy and flavorful surprises.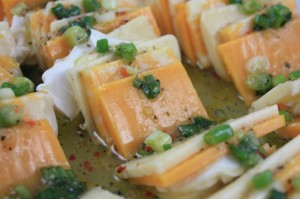 If you want to break out a cold bottle of vino to accompany your Marinated Cheese, go right ahead.  At this house, however, it's beer and cheese.  There's a lot to be said for this pairing and early last year SlashFood summed it up better than I ever could.  Of course, I always say if you're drinking what you enjoy you'll always like what you pair it with.  But it is fun to consider other people's opinions.  Wouldn't it be great fun to throw a beer and cheese pairing party and get your friends in on the conversation?  Please let me know if you're able to pull one off.  Well, until next week …
Marinated Cheese Recipe
1 0.7-ounce package Good Seasons Italian Salad Dressing & Recipe Mix
1/2 cup extra virgin olive oil
1/4 cup red wine vinegar
2 tablespoons water
1 small bunch green onions, thinly sliced
1 jalapeno pepper, seeded and minced (optional)
1 8-ounce block sharp Cheddar cheese
1 8-ounce block Pepper Jack cheese
1 8-ounce block creamy Havarti cheese
1 8-ounce package cream cheese
1 8-ounce round smoked Gouda cheese, rind removed
Assorted crackers or crostini, for serving
Prepare the marinade by placing the dressing mix, olive oil, vinegar and water in a small mason jar.  Shake vigorously until blended.  Alternatively, whisk ingredients together in a small bowl.  Stir in onions and peppers; set aside.  Slice cheeses proportionally, each about the size of a domino; arrange in rows in a shallow dish, alternating varieties.  Pour marinade over cheese.  Cover and chill at least 4 hours.  Serve with assorted crackers and/or crostini.
Genêt