The weather's been funky around here this week and I have a bad case of cabin fever.  But the forecast calls for sun this afternoon (fingers crossed), so I'm heading outdoors!  This Finger Food Friday I'm going to be grilling a big platter of stuffed mini peppers and kicking back on the deck with a bunch of ice cold brews.  That should get me out of my funk.  I'm not sure what I'll ultimately end up drinking this evening though, because I've just stumbled upon a couple of really good ales.  One's a Double Red Ale (Shark Attack, Port Brewing, San Marcos, CA) and the other is an India Pale Ale (Hercules Double IPA, Great Divide Brewing, Co., Denver, CO).  Like them both.  May mix it up.  Probably not a good idea.  We'll see.  Oh, back to the peppers.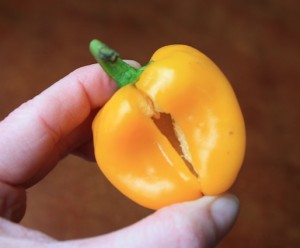 The stuffing process gets messy.  No way around it.  Sometimes you need to pry the little suckers open with your fingers.  Just be careful not to tear them.  The filling can be made any number of ways.  Feta, goat cheese, parmesan and mozzarella are all yummy cheese choices.  Red onions instead of green.  Great!  Omit the bacon.  No problem.  You could also omit the bacon bits from the filling, wrap each pepper with a slice of bacon and then grill them.  That's a good one.  Let's see … you could also chop up a few extra mini peppers (there's usually some left over) and add them to the mix.  Fresh herbs?  Yes.  Pesto and cream cheese?  Yum!  Limitless options!!!  Gotta love it.  Until next week …
Grilled Stuffed Mini Peppers Recipe
2 pounds red, yellow and orange mini sweet peppers
1/4 cup real bacon bits
1 8-ounce package cream cheese, softened
1 6-ounce container crumbled feta cheese with tomato & basil
1 bunch green onions, thinly sliced
1 jalapeno pepper, seeded and finely chopped
1 garlic clove, minced
Salt and pepper to taste
2 tablespoons olive oil
Preheat grill.  Using a small knife, cut a slit in each pepper starting at the stem.  Set aside.  Place bacon bits in a medium size, microwavable bowl.  Cover with waxed paper and cook on high for 30 seconds, or until crispy.   To bacon, add cream cheese, feta, green onions, jalapeno and garlic; stir to combine.  Season to taste with salt and pepper.  Fill each pepper with goat cheese mixture using a small spoon (I like the rubber-tipped baby spoons), a pastry bag or a resealable plastic bag with a corner snipped off.  If using a resealable plastic bag, lightly coat the inside with cooking spray so the filling won't stick.  Brush peppers with olive oil; place on grill.  Close lid and cook over direct medium heat until peppers are soft (skin will begin to wrinkle and blister) and cheese is heated through, 8-10 minutes.  Transfer peppers to a platter; allow to cool 5 minutes before serving.  Serve warm or at room temperature. To eat, pop the whole pepper in your mouth and bite off at the stem. Discard stems!
Genêt