Did you know that today is NOT the 2010 tax deadline?  Nope.  It's been extended to Monday the 18th because of Emancipation Day. While that's clearly an important reason for an extension, I'll bet the true intention behind pushing the date back is that the IRS didn't want to interfere with Finger Food Friday! I'm showing my appreciation by preparing a throw-back finger food, Hot Crab Dip.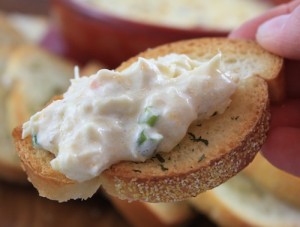 Hot Crab Dip was the it "hors d'oeuvre" of my youth.  If you grew up in New Orleans or had a relative that did, you'll probably recall the dip being served at holiday parties or special family gatherings in shiny, silver chafing dishes atop beautifully dressed dining room tables.  While I continue to honor the dish, I've abandon the "special occasion" prep and froufrou presentation.  I make this dip whenever I have Louisiana blue crabs leftover from a family crab boil and I serve it straight from an ovenproof dish (a pretty, ovenproof dish)–it doesn't last long enough to justify a chafing dish and all the extra cleaning that goes along with it!
Since I pick my own crabs, I make this recipe using the meat from the whole crab.  If you're purchasing pre-picked crabmeat from a seafood market or grocery store, you'll have to decide on the kind of crabmeat you want since it's packaged by type.  If you're cooking to impress, jumbo lump crabmeat (those big chunks of white body meat) is the way to go.  It's sweet and succulent and makes a pretty, sparkly white presentation.  Just be prepared to drop big bucks.  If you want a bigger crab flavor (that cost much less), opt for claw meat.  It's flakey and darker in color.  A nice in-between-option is the backfin meat (a mix of small lump crabmeat and white, flaked body meat).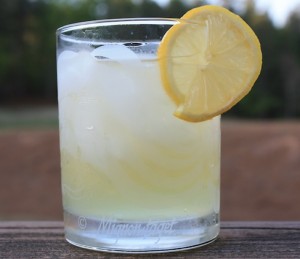 I'm in a celebratory mood today because of the whole tax filing deadline extension thing.  So I'll be cranking up the evening with a special adult beverage, The Citrus Sipper.  This is not a Genêt original.  I think I pulled the recipe from a special holiday cooking food mag and added the Tuscan Lemonade.  The drink's light, refreshing and goes nicely with today's finger food.  I've tried to get my hubby to taste it, but gin is so not his thing.  Miller Lite, on the other hand, is (as you all should know by now).   So, until next week … cheers!
Hot Crab Dip Recipe
1 pound cooked crabmeat, preferably from well-seasoned boiled crabs
4 tablespoons butter
1/3 cup finely chopped green onions
2 garlic cloves, minced
1 8-ounce package cream cheese
1 tablespoon fresh lemon juice
1/2 teaspoon Lea & Perrins (Worcestershire sauce)
1/2 teaspoon hot sauce
Salt and black pepper to taste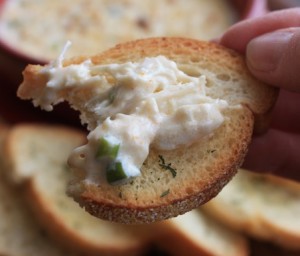 Spread crabmeat on a baking sheet and gently pick over the meat with your hands to remove any overlooked shells and cartilage.  Set aside.  In a medium saucepan over medium heat, melt butter.  Add green onions and garlic; saute until tender, about 3 minutes.  Add cream cheese; cook until cream cheese is melted, stirring frequently.  Add lemon juice, Lea & Perrins, hot sauce and salt and pepper to taste.  Stir to combine.  Reduce heat to low.  Gently fold in crabmeat.  Cook an additional 2-3 minutes, or until heated through.  Preheat broiler.  Transfer dip to a lightly greased baking dish; broil 1-2 minutes or until a light brown crust forms on top.   Serve Hot Crab Dip with toast points, pita chips or assorted crackers.  Makes about 2 cups.
The Citrus Sipper Recipe
1 cup ice
1/4 cup gin
1/4 cup Smirnoff Tuscan Lemonade with Limoncello
2 tablespoons Grand Marnier
2 tablespoons fresh lemon juice
1 lemon or lime slice for garnish
Pour ingredients in a chilled glass.  Stir until thoroughly mixed.  Garnish with lemon or lime slice and serve.  Makes 1 serving.
Genêt