It's early Thursday morning and luckily the house is still quiet. I've got about an hour before the kids' feet hit the floor. I've been a little under the weather lately so the last thing I feel like doing is writing, cooking or eating (yeah, I know that's hard to believe). But … the show must go on! Sunday is Easter and I want to prepare something special for the family. Since I'm lacking the energy to pull off a fancy five course holiday meal, I'm going to prepare something casually elegant. I'll be making a household favorite, Grilled Lamb Chops with Lemon and Thyme.  For this occasion, I'm using the Frenched rack of lamb.  While some may argue that this cut is too prized (and expensive) to be reduced to a fast and furious preparation such as this, I have to disagree.  When you slice the rack into individual chops and marinate and grill them, you end up with a platter full of aromatic steaks that are crusty on the outside and juicy and tender on the inside. For casual dinners, such as ours, the chops can be picked up by the rib bone and eaten by hand. Lamb loin chops would be a nice substitute for a more formal, sit-down dinner. The loin chops look like tiny T-bone steaks, are meatier than the rib chops and do require forks and knives.
Grilled Lamb Chops with Lemon and Thyme Recipe
2 French-cut racks of lamb (8 ribs each), trimmed of excess fat
1/2 cup Dijon mustard
1/2 cup fresh lemon juice
6 tablespoons balsamic vinegar
2 garlic cloves, minced
3 tablespoons chopped fresh thyme (or 3 teaspoons dried thyme leaves)
1/2 teaspoon black pepper
1/4 teaspoon salt
2/3 cup extra virgin olive oil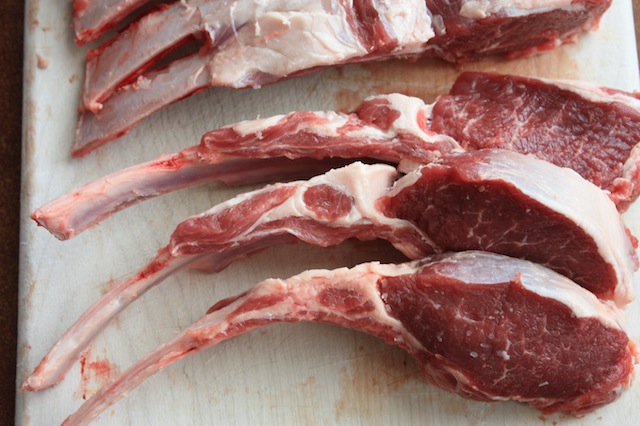 Cut racks into individual rib chops.  Places chops in a large resealable plastic bag.  Set aside.  In a small bowl, combine Dijon mustard, lemon juice, balsamic vinegar, garlic, thyme, pepper and salt.  Gradually whisk in oil.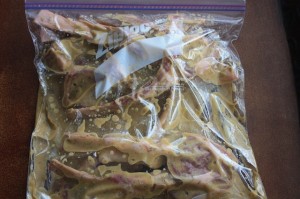 Pour 1 cup of marinade over lamb chops.  Reserve remaining marinade.  Seal bag; gently turn to evenly coat lamb with marinade.  Marinate in the refrigerator for 1-4 hours.  Remove chops from fridge and allow to come to room temperature, about 20 minutes.
Prepare grill for direct cooking.  Remove chops from marinade and place on hot grill.  Discard used marinade.  Close lid and cook over direct high heat 2-3 minutes per side for medium rare.  Time will vary slightly based on the thickness of each chop.  Remove chops from grill; tent with foil and allow to rest 5 minutes before serving.  Serve with reserved marinade on the side.  Makes 4-6 servings.
Genêt