It's the end of the week already and time for another installment of Finger Food Fridays.
One of the many food traditions in New Orleans surrounds the days of the week.  We eat Red Beans and Rice on Mondays, some sort of spaghetti dish with Red Gravy on Wednesdays and seafood on Fridays. Most of us carry out these eating habits without a second thought. But each tradition comes packaged with its own set of stories. "Seafood Fridays," for instance, is tied to the deep-rooted Catholic practice of abstaining from meat on Fridays, especially during Lent (which ends tomorrow). I'm honoring that tradition today by deep frying squid at home. Even though squid is not indigenous to the coastal waters of Louisiana, it does have its place in our local food culture thanks to our heavy Italian and Greek populations.
When it comes to deep frying at home, I cheat by using my Waring Pro Deep Fryer.
I say cheat because, my mom still fries her seafood on the stove in a large Magnalite skillet without a thermometer. She knows when the oil has reached the perfect termperature simply by watching how quickly a pinch of flour rises to the surface. Her seafood, especially her catfish, is fried to perfection each and every time. I've tried to fry her way, but I just can't get it right. When it comes down to it, I think (rather I know) I lack patience. Thanks goodness for the deep fryer. There's no guess work or patience required. It's like "Deep Frying for Dummies." The fryer signals when the oil is hot and the food is done thanks to a built-in thermometer and timer. It also comes with a couple of different size immersion baskets and a filtered lid that minimizes splashes and smells. Oh, and just about everything can be thrown in the dishwasher. I know I'm starting to sound like an infomercial. But seriously, if you find frying seafood at home intimidating then the deep fryer is the way to go! Each time I use it, I end up with perfectly fried food.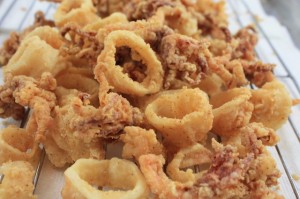 While oil temperature is important to frying, so too are the ingredients you use to coat the seafood. I try to stay away from heavy batters. A basic, seasoned flour or cornmeal mixture is all that's really needed for tasty fried seafood. The flour blend I prepared for the calamari produces a light and crisp crust. I think you're really going to like it. The dipping sauce, with sweet and spicy Asian flavors, is off the beaten path but a personal favorite of mine. If marinara sauce is more your style, go for it.
My hubby and I are going to take advantage of the Asian influence in tonight's finger food by toasting the evening with a few Sapporos (Tokyo, Japan). We may even pick up some of those neat little Japanese Ramune Sodas for the kids. Well, until next week …
Fried Calamari Recipe
1 pound cleaned squid (tubes and tentacles)
1 1/4 cups all purpose flour
1/4 cup cornstarch
1 tablespoon plus 1 teaspoon Creole seasoning
1/2 teaspoon baking powder
Lemon wedges
Canola or peanut oil for frying
Heat oil to 350 degrees in a large skillet or electric fryer.  Meanwhile, cut squid tubes (bodies) crosswise into 1/2-inch rings.  Place tubes and tentacles in a bowl; set aside.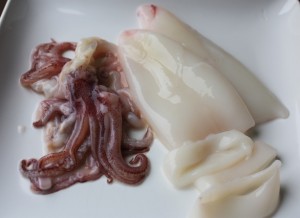 In a shallow baking dish, combine flour, cornstarch, Creole seasoning and baking powder.  Working in batches, toss a handful of squid into flour mixture to coat.  Shake off excess flour.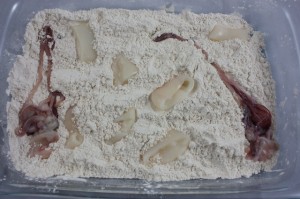 Carefully add squid to hot oil.  Cook until light golden brown and crisp around edges, about 3 minutes per batch.  Remove squid to a wire rack or paper-towel-lined baking sheet to drain. 
Top with a squeeze of lemon juice.  Keep warm in a 225 degree oven until ready to serve.  Serve with Chili Garlic Dipping Sauce on the side. 
Makes 4-6 appetizer servings.
Chili Garlic Dipping Sauce Recipe
2 tablespoons orange marmalade
1 tablespoon rice wine vinegar
1 tablespoon honey
2 teaspoons chili garlic sauce
1 teaspoon sesame oil
Combine all ingredients in a small, microwaveable bowl; cover.  Cook on high for 40 seconds; stir until marmalade has melted.  Makes about 1/2 cup.
Genêt