This may come as a big surprise to many, but most of us New Orleanians do not make our own King Cakes. We prefer, instead, to patronize our favorite bakery for our Carnival confections. And there's a certain lineage that typically dictates our most cherished bites. That lineage, more often than not, is defined by family loyalty to a specific bakery. For instance, if mom favors Haydel's King Cakes, chances are those are the King Cakes her kids and grandkids will ultimately prefer.
As a kid, my favorite King Cakes were the simple brioche-based, icing-less ones from McKenzie's Pastry Shoppes. I loved them so much that I chose them as my birthday cake for many, many years. McKenzie's "ain't dere no more." But in recent years, Tastee Donuts acquired their recipes and has brought many of McKenzie's top sellers, including their King Cakes, back to life. I still pick one up on occasion but these days I prefer the other, Danish-style King Cakes. They are the ones filled with cinnamon sugar and topped with a super-sweet white icing and Carnival colored sprinkles. And because—and only because—so many of you have asked me for a King Cake recipe, that's the style I've learned to prepare from scratch. Although I had no interest in learning how to make King Cakes prior to those requests, I'm so happy I took on the challenge. Thanks for the nudge!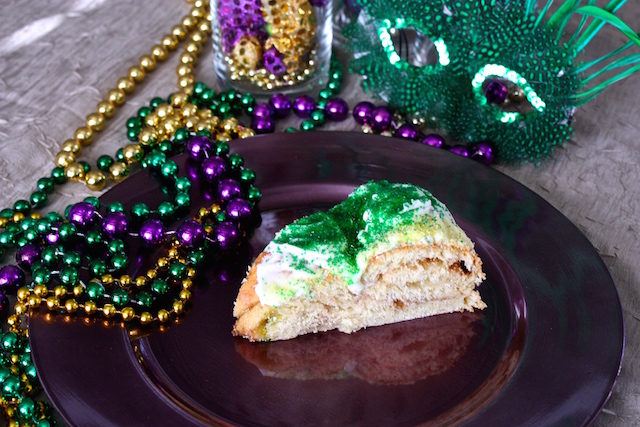 If you're ready to try your hand at King Cake baking, here's my recipe. But it comes with a caveat. When making a King Cake, please honor the traditions—form the cake into an oval, hide a plastic baby inside, decorate the top with the colors of Mardi Gras (purple for justice, green for faith and gold for power) and only make it during the Carnival season–January 6 through Mardi Gras Day (always the Tuesday before Ash Wednesday, which this is February 17). Although it is a time-consuming process, scratch King Cake-making is well worth the effort and the bragging rights.
King Cake Recipe

Cinnamon Sugar Filling
1 stick unsalted butter, softened
1 cup packed light brown sugar
2 tablespoons ground cinnamon
1/2 teaspoon salt
Icing
3 cups powdered sugar
3 tablespoons butter, melted
1/2 teaspoon fresh lemon juice
1/2 teaspoon pure vanilla extract
2-4 tablespoons whole milk
Cake
1 cup lukewarm whole milk (about 110 degrees F)
1/3 cup sugar
3 teaspoons active dry yeast
1/2 cup butter, melted
1 whole egg
4 egg yolks
1 teaspoon pure vanilla extract
3 3/4 cups all purpose flour, plus more for kneading
Canola or vegetable oil, for proofing dough
Purple, green and gold colored sugar, for garnish
Small plastic baby*
FOR FILLING: In a medium bowl, combine the softened butter, brown sugar, cinnamon and salt; set aside.
FOR ICING: In the bowl of an electric mixer with whisk attachment, combine the powdered sugar, melted butter, lemon juice, vanilla and 2 tablespoons milk. Whisk on medium-low speed until smooth. Add more milk, 1 tablespoon at a time as necessary to reach a spreadable consistency. Cover tightly with plastic wrap and set aside. Do not refrigerate.
FOR CAKE: In a large bowl, combine the sugar and yeast. Add warm milk and whisk until sugar and yeast are dissolved. Let sit until bubbles develop on the surface of the milk and it begins to foam, about 10 minutes. Whisk in melted butter, eggs and vanilla. Using a rubber spatula, gradually fold in flour. When the dough starts pulling away from the side of the bowl, shape into a ball and knead on a floured surface until smooth and elastic, about 15 minutes. Transfer dough to a large bowl lightly coated in oil. Turn to coat. Cover tightly with plastic wrap and set aside in a warm, draft-free area until dough has doubled in size, about 1 1/2 hours. Once dough has risen, punch it down and roll into a rectangle about a 1/2-inch thick. Spread filling evenly onto dough. Fold dough in half lengthwise then gently press down to seal. Cut lengthwise into 3 strips. Gently stretch each dough strip then braid the 3 strips. Form the dough braid into an oval and pinch the ends to close the oval. Transfer braid to a large, nonstick baking sheet. Tent with plastic wrap and let rise until doubled in size, about 1 hour. Preheat oven to 375 degrees F. Place braid in oven and bake until golden brown, 20-30 minutes, depending upon oven. Transfer to a wire rack and let cool completely.
ASSEMBLY: Once cake has cooled, hide the plastic baby inside by pushing it into the bottom of the cake. With a rubber spatula, spread icing evenly over top of cake. Decorate with colored sugars, alternating purple, green and gold. Serve warm, cold or at room temperature. Makes 10-12 servings.
Genêt
*Plastic King Cake babies can be purchased at craft stores or through online sources like the Mardi Gras Outlet.