New Orleans is known for lots of wonderful food stuff, including sandwiches.  The two most popular being the poor boy and the muffuletta.  But there's another sandwich in town that's gotten a lot of attention over the past few years.  It's "banh mi" (pronounced bun-me).  The word refers to both a Vietnamese-style baguette loaf and the sandwich that's made with it.  The story behind the New Orleans-Vietnamese banh mi goes something like this.
Way back when, the French introduced a baguette smeared with liver pate to the Vietnamese people.  The Vietnamese called it banh (biscuit/cake) mi (flour/wheat).  The French-style baguette was rather pricey having been made with wheat flour.  So the resourceful Vietnamese people turned to their plentiful rice fields for inspiration. They began making their own bread with rice flour or a rice/wheat combination.  They then added native flavors, such as pickled vegetables and spicy chili peppers, and an inexpensive yet hearty sandwich was born.  Following the end of the Vietnam War, many Vietnamese people fled to the U.S. and settled in New Orleans.  New Orleanians were quick to embrace the customs and food traditions the Vietnamese people brought along with them–including banh mi.  In fact, banh mi has become such an important part of the fabric of the City that the locals often refer to it as a "Vietnamese poor boy."
For Finger Food Friday, I thought it would be fun to create an Appetizer-Style Banh Mi.  In keeping with the basic elements of the sandwich, I constructed my little banh mi with …
MEAT … thinly sliced pork tenderloin marinated in fish sauce (and other goodies),
VEGETABLES … sweet-and-sour-tinged coleslaw amped up with julienned cucumbers, sliced red onions, fiery jalapenos and fresh cilantro,
SAUCE … a Sriracha-infused mayo, and
BREAD … sturdy slices of a fresh baguette topped with garlic butter and lightly toasted.
In true Asian fashion, my knockoff is an addictive attack on all the senses.  Each bite hits you with contrasting flavors of salty, sweet, sour and spicy. The different textural layers are also quite amazing.  And not unlike the iconic po-boy and muffuletta, my Appetizer-Style Banh Mi is quite messy.  So don't forget the napkins and a cold beverage to wash everything down (and quell the heat).  I'm leaning towards Heineken this evening.  It's simple and refreshing and perfectly suited for "busy" finger food!
Until next week …
Appetizer-Style Banh Mi Recipe
Vegetable Garnish
1 16-ounce package coleslaw salad mix
1 small cucumber, seeded and julienned
1/2 of a medium red onion, peeled and thinly sliced
1 fresh jalapeno pepper, thinly sliced
1/2 cup chopped fresh cilantro
1/2 cup rice vinegar
1/2 cup sugar
2 teaspoons sesame oil
1 teaspoon salt
Sauce
1/2 cup mayonnaise
3 teaspoons Sriracha hot chili sauce
1 garlic clove, minced
Bread
1 baguette loaf
1 stick unsalted butter, softened
2 tablespoons garlic powder
Pork
1 1-pound pork tenderloin
2 garlic cloves, minced
2 tablespoons canola oil
2 tablespoons sesame oil
2 tablespoons lemon grass puree*
2 tablespoons fish sauce
2 teaspoons sugar
1/8 teaspoon cayenne pepper
Salt and black pepper to taste
FOR VEGETABLE GARNISH:  In a large bowl, combine the coleslaw mix, cucumbers, red onions, jalapeno peppers and cilantro.  In a small bowl, add rice wine vinegar, sugar, sesame oil and salt; stir until the sugar is dissolved.  Pour mixture over vegetables; toss until completely coated.  Set aside.
FOR SAUCE:  In a small bowl, combine mayonnaise, Siracha chili sauce and garlic.  Cover and chill until ready to serve.
FOR BREAD:  Preheat oven to 350 degrees.  Using a serrated knife, slice baguette into 1/2-inch slices.  Discard ends.  Place bread on a large baking sheet.  In a small bowl, combine the softened butter and garlic powder.  Spread a thin layer of garlic butter on each bread slice.  Place bread in oven; bake for 5 minutes. Set aside.
FOR PORK:  Trim fat and remove silver skin from pork; cut crosswise into 1/2-inch slices.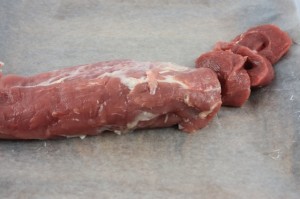 Place slices in a single layer on a large sheet of waxed paper.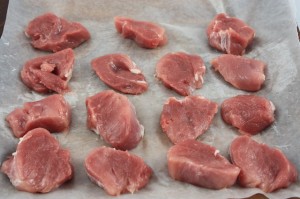 Cover pork with a second sheet of waxed paper.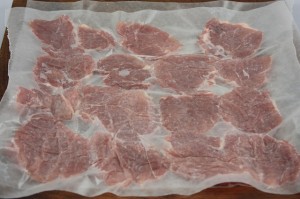 With the flat side of a meat mallet, pound each pork slice into a thin disc.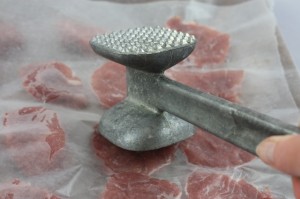 Carefully remove wax paper.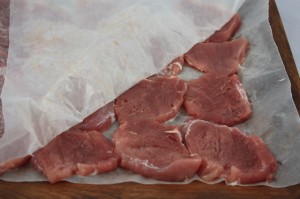 Transfer pork to a large resealable plastic bag.  In a small bowl, combine garlic, canola and sesame oils, lemon grass puree, fish sauce, sugar and cayenne pepper.  Pour mixture over pork; seal bag.  Place bag in the refrigerator and allow pork to marinate for at least 30 minutes.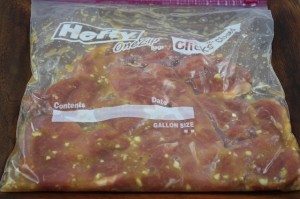 Remove meat from refrigerator; allow to come to room temperature, about 20 minutes.  Remove meat from marinade; discard marinade.  Season both sides of meat with salt and black pepper.  Coat a large skillet with cooking spray; place over medium-high heat.  Working in batches, add pork to skillet and cook until brown on both sides and slightly pink in the center, 4-5 minutes.  Don't overcrowd pan or pork will steam-cook and never develop a crispy, brown exterior.  Transfer cooked pork to a platter; tent with aluminum foil to keep warm.
ASSEMBLY:  Spread one side of each bread slice with sauce.   Place one piece of pork on top of sauce.  Top each banh mi with a generous amount of vegetable garnish.  Serve immediately.  Makes 12-15 appetizer servings.
*I use the Gourmet Garden lemon grass spice blend puree that comes in a convenient tube that can be found in the produce section of most grocery stores.
Genêt