It's JazzFest Friday and Finger Food Friday y'all!  The stars are aligned.  Finally!!
If you're heading down to the Fest today, there's no doubt you'll be eating some of the best finger food (and "fork food") New Orleans has to offer.  But for those of you who can't attend, I've got the perfect recipe to keep you from feeling left out, Mini Cajun Meat Pies.  These tiny, hand-held, savory bites are full of smoky andouille sausage and lots of Cajun spices and when made with frozen puff pastry sheets they can be prepared in less than an hour.  They're much smaller than the palm-size Spicy Natchitoches (pronounced "nack-a-tish") Meat, Crawfish and Broccoli & Cheese Pies sold at the Fest by Mrs. Wheat's Foods.  But trust me, they're just as good!
Now for the full New Orleans Jazz & Heritage Festival experience, Mini Cajun Meat Pies should be eaten with one hand while holding a cold beer in the other (hanging out on your deck or patio listening to some great tunes by, say, Amanda Shaw or Tab Benoit, would be an added bonus). You could also attempt to recreate a Rosemint Iced Tea, a top-selling, non-alcoholic Fest beverage, and spike it with vodka or bourbon. That sounds pretty inviting, doesn't it?
Until next week …
Mini Cajun Meat Pie Recipe
2 tablespoons canola oil
1/2 pound andouille sausage
1/2 ground beef
1/2 cup chopped green onions
3 garlic cloves, minced
1 jalapeno pepper, seeded and minced
2 tablespoons Sun Dried Tomato Pesto*
1 tablespoon Lea & Perrins (Worcestershire sauce)
1 teaspoon dried thyme leaves
1/2 teaspoon salt
1/2 teaspoon ground cumin
1/2 teaspoon black pepper
1/4 teaspoon white pepper
1/4 teaspoon cayenne pepper
2 tablespoons all purpose flour
2 tablespoons water
2 17.3-ounce packages frozen puff pastry sheets, slightly thawed
1 egg yolk
1 tablespoon milk
In a large skillet, heat canola oil over medium-high heat.  Add andouille and ground beef.  Cook until lightly browned, breaking meat up as it cooks with the side of a spoon or a potato masher, about 8-10 minutes.  Reduce heat to medium.  Add green onions, garlic, jalapeno, Sun Dried Tomato Pesto, Lea & Perrins, thyme, salt, cumin, black, white and cayenne peppers.  Cook until vegetables are tender, about 3-5 minutes.  Sprinkle flour over meat mixture; add water.  Stir to combine (this will thicken filling and keep it from leaking out of the puff pastry).  Remove filling from heat and cool at room temperature.  While filling is cooling, preheat oven to 400 degrees. 
On a floured surface, roll out one sheet of dough to 1/8-inch thickness.  Using a 3 1/2-inch round cookie cutter, cut puff pastry sheet into 9 circles.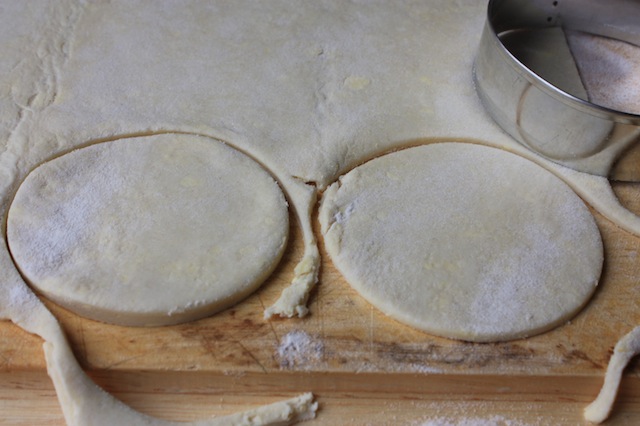 Place 1 heaping teaspoon of filling in the center of each circle.  Fold circle over to enclose filling; press edges together with the back of a fork.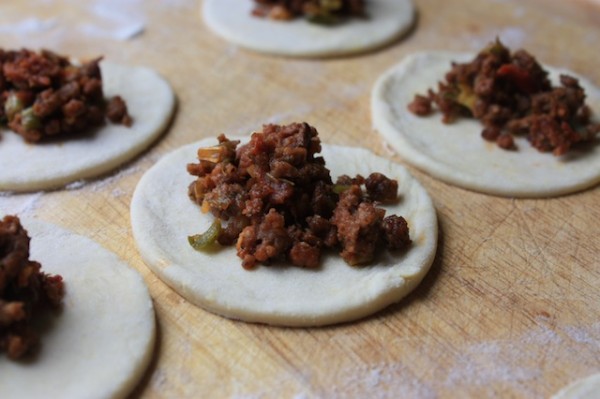 In a small bowl, combine egg yolk and milk.  Brush tops of meat pies with egg wash.  Repeat process with remaining sheets of puff pastry dough.  Place prepared meat pies on an ungreased baking sheet; bake until golden brown, 10-12 minutes.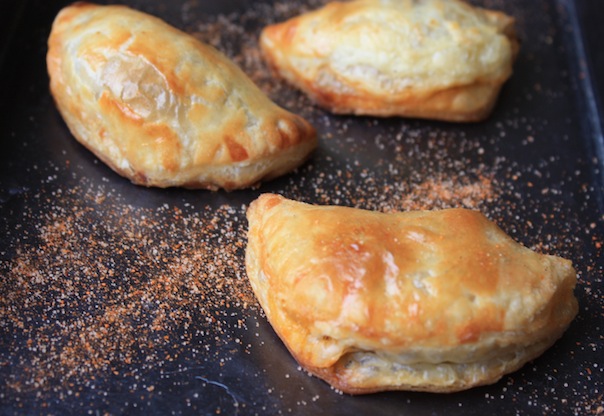 DO-AHEAD TIPS:  Unbaked meat pies can be made in advance and frozen for several months.  Simply flash-freeze by placing them about a half-inch apart on a baking sheet lined with waxed or parchment paper.  When frozen, about 30-45 minutes later, transfer them to a resealable freezer bag and quickly return them to the freezer.  Frozen meat pies can be baked without thawing.  Makes 36 mini meat pies.
*Classico is my favorite brand of Sun Dried Tomato Pesto. It comes in a 6.5-ounce jar and can be found in most grocery stores in either the international food section or by the tomato sauces.
Genêt