Before my kids were born, I prided myself on making salad dressings from scratch.  But having three kids in two and a half years left little time to prepare anything beyond three squares and two snacks a day.  Once my babies were old enough to appreciate salad dressing, it was all Hidden Valley Ranch.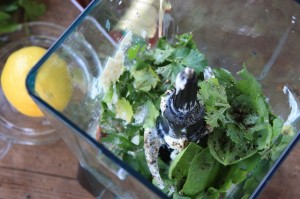 Twelve years and three blenders later, their palates have finally expanded and I'm back on the homemade dressings track!  These days, the one at the top of my list is Green Goddess.  There's nothing better than pulling a couple of handfuls of fresh herbs from my garden and blending them up into this refreshingly creamy, spring-like dressing.  I don't follow the typical tarragon-chive-parsley trio.  I prefer lots of basil and green onions with just a hint of parsley and cilantro.  I also use avocado in place of the mayo base called for in most recipes–it lightens up the final product.  The dressing is perfect spooned over a crisp wedge of iceberg lettuce, tucked into a layered salad with red leaf, green peas and cheddar cheese or stirred into a bowl of leftover boiled shrimp. And my kids? They'll eat just about anything with a slather of Green Goddess (kind of like those old Hidden Valley Ranch days).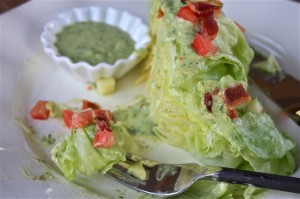 Oh, and here's an interesting factoid I discovered about this dressing.  The original recipe for the bottled version produced by Seven Seas (now owned by Kraft) was actually developed by New Orleans' own Warren Leruth.  The late Warren Leruth owned and operated the very successful LeRuth's restaurant in Gretna, Louisiana (right across the Muddy Mississippi from downtown New Orleans).  Many of his popular recipes circulate local papers and home kitchens to this day.
Green Goddess Dressing Recipe
1/2 ripe Hass avocado
1/4 cup reduced fat sour cream
1/4 cup fat-free half-n-half
1/4 cup fresh lemon juice
1/2 teaspoon Lea & Perrins (Worcestershire sauce)
1 small bunch green onions, chopped
2 garlic cloves
2 teaspoons anchovy paste
1 cup fresh basil
1/4 cup fresh flat-leaf parsley
1/4 cup fresh cilantro
1 teaspoon Kosher salt
1/2 teaspoon black pepper
Pinch of cayenne pepper
3/4 cup extra virgin olive oil
Place avocado and next 13 ingredients (through cayenne pepper) in a blender and process until smooth.  With machine running, gradually add oil and continue processing until blended.  Refrigerate until ready to serve. Makes about 2 cups.
Genêt