Most New Orleanians are traditionalists when it comes to red beans.  They fix them one way and one way only–cooked down for several hours in a large pot of water with the Holy Trinity (onions, celery and green bell pepper) and various types of pork.  The beans are served over rice and the dish is usually reserved for Mondays, which long ago were wash days.
I'm all about tradition and love my Red Beans and Rice. But I've come to learn that there's more than one way to cook them. My favorite, non-traditional red bean dish is this Roasted Garlic and Red Bean Hummus. Here I take the standard hummus beans, chickpeas, and replace them with red beans. I then blend the red beans with tahini, olive oil and lemon juice (basic hummus ingredients). I add an entire head of roasted garlic. This gives the hummus a sweet and nutty edge and a smooth texture. And finally, embellish the dish with ingredients that mimic flavors found in a bowl of Red Beans and Rice. These include liquid smoke (which plays off the pork theme), dried oregano leaves and my usual triple play of ground peppers (black, white and cayenne). Everything comes together quickly and deliciously. The hummus can be served straight up with fresh veggies, crackers or warm flour tortillas, used as a spread for wraps and sandwiches or served as a dip for grilled sausages.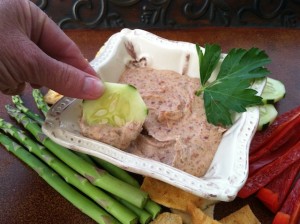 My Roasted Garlic and Red Bean Hummus goes great with some type of mellow India Pale Ale. A Hopitoulas IPA or a Sweetwater IPA are two perfect imbibing options. Each hovers around six percent alcohol, is not overbearing on the hops and has a nice creamy finish. Choosing another IPA around the same alcohol-by-volume percentage should also pair well with this finger food!
Until next week …
Roasted Garlic and Red Bean Hummus Recipe
1 head garlic
2 tablespoons extra virgin olive oil
1 16-ounce can red kidney beans, drained and rinsed
1/2 cup tahini (sesame paste)
1/4 cup plus 2 tablespoons extra virgin olive oil
1/4 cup water
3 tablespoons fresh lemon juice
1/2 teaspoon liquid smoke
1 1/2 teaspoons dried oregano leaves
1 teaspoon parsley flakes
1 teaspoon salt
1/4 teaspoon black pepper
1/8 teaspoon cayenne pepper
1/8 teaspoon white pepper
Assorted fresh vegetables and crackers and warm flour tortillas, for serving
Preheat oven to 400 degrees.  Cut 1/4 inch off the top of garlic while keeping the cloves intact.  Place garlic in aluminum foil cut side up and drizzle with olive oil.  Wrap tightly and roast until tender and lightly browned, 25-40 minutes (time varies greatly depending on size garlic and oven; start checking after 20 minutes).  Let cool, then squeeze cloves into a blender or food processor.  Add red beans and next 11 ingredients (through white pepper); process until smooth.  Spoon red bean hummus into a serving dish and serve with assorted fresh vegetables and crackers and warm flour tortillas.  Makes about 2 cups.
Genêt